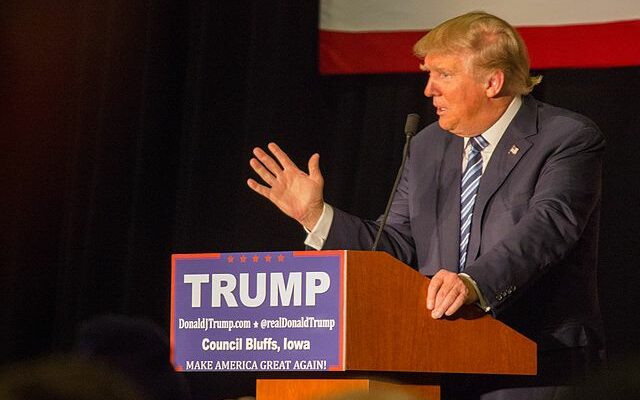 Donald Trump fired back against Ron DeSantis, saying that the Florida governor's "culture of winning" comment is off base. The former president insisted that he's "not at all caught up in the past" of relitigating the 2020 election.  
Trump in response to DeSantis' claim that the GOP "must reject the culture of losing"

Trump: "First of all, I'm not at all caught up in the past.. He can talk about what he wants… I did very well in the midterm elections. [My endorsed candidates won] 233 out of 253 race" pic.twitter.com/hqYBtCewQP

— Joel Weingart (@JoelWeingart_) May 15, 2023
Trump also took on DeSantis's stance on social issues like abortion, calling it "too harsh." The Florida governor is expected to formally announce he is seeking the 2024 Republican presidential nomination in the .ext few weeks. 
In April, DeSantis signed The Heartbeat Protection Act, which "bans abortion after the sixth week of pregnancy except in cases where the mother conceived from rape, incest, or human trafficking, in which case about is allowed at 15 weeks gestation. The law also allows an exception if the life of the mother is threatened. In cases of fatal fetal abnormalities, abortion is allowed until the third trimester.
After signing it into law, the Florida governor said, "We are proud to support life and family in the state of Florida. I applaud the Legislature for passing the Heartbeat Protection Act that expands pro-life protections and provides additional resources for young mothers and families."
Pro-life organizations saw the bill as a major win, but Trump sees it as going too far. 
In an interview with The Messenger, the former president attacked the legislation in Florida, surprisingly claiming that it was not supported by pro-lifers, despite the previous celebrations. 
The Messenger: DeSantis signed a six-week abortion restriction in Florida. Do you think he was right to do that?

Trump: "Well, he has to do what he has to do. If you look at what DeSantis did, a lot of people don't even know if he knew what he was doing. But he signed six weeks, and many people within the pro-life movement feel that that was too harsh."

The Messenger: What do you think? Is it too harsh for you?

Trump: "I'm looking at all alternatives. I'm looking at many alternatives. But I was able to get us to the table by terminating Roe v. Wade. That's the most important thing that's ever happened for the pro-life movement."

The Messenger: Would you sign a six week abortion ban or not?

Trump: "I'm looking at all [options]."
"The former president also came under fire when he suggested that Republicans performed badly in the 2022 midterm elections because of their position on abortion," according to The Daily Caller.
"Trump is way out of line here on life," Lila Rose, founder and president of Live Action, said, on Twitter regarding Trump's midterm comments. "He does not have a pulse on where his potential base is — as many believed he has in the past. This kind of nonsense will be a losing political strategy for him."
The former president's latest comments already seem to have sent some surrogates scrambling. 
If you want to see how Trump embarrasses his surrogates, here is a perfect example.

Alex spent months attacking DeSantis for not doing enough on abortion. Now Trump says DeSantis did too much so Alex has to delete all his tweets. 😂😂😂 pic.twitter.com/bO2I5cLgua

— AG (@AGHamilton29) May 15, 2023
Social and cultural issues will likely be a major difference between Trump and DeSantis. The Florida governor has made a name for himself by going after woke schools, banning sexually explicit books that were being pushed on first graders, and taking on Disney over its "not so secret" cultural agenda.
Trump, on the other hand, has shied away from those issues, both during his time in the White House and afterward. In 2018, he famously received the ire from gun owners by unilaterally banning bump stocks, giving those in possession of the items 90 days to hand them to the government.
The Trump family, which owns roughly $5 million in stock in Anheuser-Busch, also came out against the current Bud Light boycott. Business Insider reported, "Donald Trump Jr. is calling for the end of a conservative-led boycott against Bud Light, which is owned by Anheuser-Busch, over the parent company's partnership with the trans influencer Dylan Mulvaney.
During an April 13 broadcast of his "Triggered" podcast, the eldest son of former President Donald Trump addressed the controversy that has become a new cultural front in the political right's increasingly vocal criticism of transgender issues and the conservative push to pass legislation restricting gender-affirming care.
Trump Jr., who frequently rails against what he deems as "woke" influences in American society, is usually fighting alongside conservatives on many issues, but he broke away from the movement as it related to Anheuser-Busch.
"I'm not for destroying an American, an iconic company, for something like this. The company itself doesn't participate in the same leftist nonsense as the other big conglomerates," he said, arguing that Anheuser-Busch had a conservative lean in their political donations."
The former first son's statement received the ire of conservative activists. 
We have them on the ropes right now.

And then…this? https://t.co/arYXJ69lEg

— Josh Hammer (@josh_hammer) April 14, 2023
So, IF you give the GOP enough money the company can do anything they want to society. Check. https://t.co/35FGpDhhJW

— Jon Nicosia (@NewsPolitics) April 16, 2023
After a long silence on the matter, eventually, the big man himself was forced to comment on the ongoing boycott, saying, "Money does talk." 
 With the two major candidates taking starkly different approaches to social issues, the 2024 Republican primary promises to be a clarifying event in our politics. 
[Read More: DeSantis Finally Goes After His Biggest Foe]