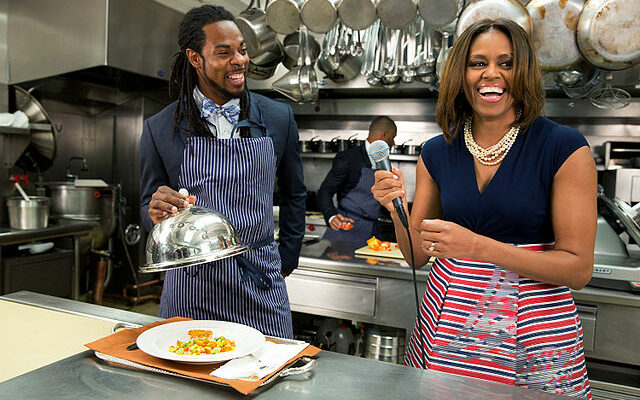 Former First Lady Michelle Obama recently looked to cash in on her obsession with the food that kids eat, launching a drink that claims to be a healthier option for small children. 
Earlier in the month, NPR reported, "Michelle Obama is taking on a new role as the co-founder of PLEZi Nutrition, which aims to market food and beverages for kids that are both tasty and healthy. The company, which announced its launch Wednesday, is starting with a line of low-sugar, nutrient-dense kids' drinks made from a fruit-juice blend.
'I believe there is a way to build a successful company and do right by our kids,' Mrs. Obama said during remarks at the Wall Street Journal Future of Everything Festival on Wednesday. 'I'm putting some skin in the game to put this theory to the test,' she said.
Mrs. Obama will not be the face of the PLEZi Nutrition brand. Her plan is to work behind the scenes to help navigate the mission to drive change in the food supply.
The company's first product is a line of kids' drinks called PLEZi, which has about 75% less sugar compared to top brands of fruit juice, and no added sugar. Fiber is blended into the beverages as well as nutrients such as potassium, magnesium and zinc. The drinks come in flavors including Sour Apple, Blueberry Blast and Orange Smash, and will be sold at retailers including Target and online at Walmart. A four-pack of 8 ounce drinks will cost just under $4.00."
The latest Obama venture is a joint partnership with one of her husband's wealthy friends, John Schulman, founder of Juggernaut Capital. In a press release, the company said its mission is "to be a driver of change and a model for how food and beverage brands can support the health of our next generation."
But the drinks would not even pass the nutritional standards Michelle influenced her husband into passing during his time at the White House. Under Obama-era school-meal regulations, kids in elementary and middle schools could only be given water, milk, or 100% fruit or vegetable juice with no added sweeteners. According to one account, "none of Plezi's four current flavors meet these criteria." 
Bloomberg News interviewed 12 independent health professionals and organizations and spoke with Plezi Chairman Sam Kass, as well as with members of the company's advisory board. Nearly all of the experts conveyed their respect for Obama and her achievements in improving child nutrition. But most were critical of the new line of drinks.

Several of the health professionals characterized the Plezi drinks as an ultra-processed food, or one made largely from extracts of other foods or artificial additives. Numerous medical studies point to overconsumption of these kinds of foods as potential drivers of cardiovascular disease, diabetes, even death.

Marion Nestle, professor emerita of nutrition, food studies and public health at New York University and author of Soda Politics: Taking on Big Soda (and Winning), described the Plezi beverages as "standard-industry, ultra-processed products not to be promoted to kids."

Jerold Mande, an adjunct professor of nutrition at Harvard T.H. Chan School of Public Health and chief executive officer of Nourish Science, a nonprofit focused on nutrition, served as a senior adviser for food, nutrition and consumer services at the US Department of Agriculture during the Obama administration. He said the former first lady "has done more to improve child nutrition than any other political leader."

But "she has been ill-served by advisers who convinced her to start by targeting 6- to 12-year-olds with a flashy, ultra-processed beverage that may not be any healthier than diet soda," he added.
Both Obamas, and current President Joe Biden, seem to have an obsession with what children eat at school. The White House recently announced a policy that could see chocolate milk be removed from America's schools. 
This is not the first time that Michelle Obama has tried to foist her bad ideas upon the public. Fox News noted that she "frequently pushed initiatives to combat childhood obesity during her husband's time in the White House. However, the health guidelines pushed by the administration had mixed results with some schools calling them too restrictive and costly. 
Calley Means, a former consultant for Atlanta-based Coca-Cola previously told Fox News that he was 'sick to [his] stomach' witnessing the former first lady promote an unhealthy beverage for children.
'As a parent, I am begging Michelle Obama — this might not fund the new house in Martha's Vineyard, but please, for the sake of children, speak clearly: Kids should not be eating sugar and not be drinking sugar,' Means said."
Plezi did not respond to a request for comment from Fox News, but it did answer Bloomberg, saying that their processed drink for children was the good kind of processed drink. 
Plezi's CEO insisted that her product is an example of good processed food and to "label Plezi an 'ultra-processed food,' is at best cynical if not intellectually dishonest,'" wrote The Daily Mail.
"Still, the drinks are far preferable to an eight-ounce can of Coke, which packs 26 grams of added sugar and 100 calories." 
Although the drinks created by the former First Lady would not satisfy the standards she helped set, they do seem healthier than some 100 percent fruit juices. 
Knowing how the current class of limousine liberal crusaders operates, Michelle's drink will get an exemption in schools, much like celebrity chef Jose Andreas, a Democratic favorite for his criticisms of Trump, was given immunity from the recent gas stove bans put into place.  
[Read More: A Dark Horse Candidate Enters The GOP Primary]