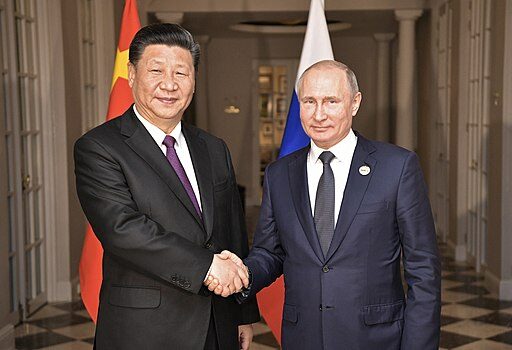 It's not been a great few months for the authoritarians leading two of America's most significant global adversaries. In Russia, Putin was seen at a public event limping and clinging to his blankey as his troops and tanks continue to die in Ukraine. One Russian tank was last seen with its turret being blown sky-high as its brothers in arms were "wiped out by Ukrainian forces in an attempt to cross the Seversky Donets river." 
In China, things appear to be getting worse for Putin's major ally Xi Jinping. Bearing a startling resemblance to Winnie the Pooh, his unsustainable COVID policy is destroying China, and his country's economy continues to slow to the point where the communist politburo in charge may pull out the credit card in hopes of giving it a sugar high. Ships have lined up outside of the nation's eastern seaboard, trying to get into a country where roughly 400 million people have been locked down over the past months.
It looks like leaders in China may have had enough of Xi's stumbling. The Washington Times reports, "Rumors circulating in China and among overseas Chinese social media are claiming Chinese President Xi Jinping, under fire for draconian COVID-19 lockdowns in Shanghai and elsewhere, will step down from power.

The rumors followed a meeting last week of the Party Politburo Standing Committee, the collective leadership group that rules China. They were traced in part to a Chinese-language YouTube video May 4 by Canadian-based blogger appearing under the persona 'Lao Deng.' Details of the video quickly spread to social media outlets in China but were quickly censored.

The blogger, citing what he said was a senior Chinese Communist Party (CCP) security source, said a 'coup' was launched against Mr. Xi at the meeting of senior party leaders in Beijing. According to blog, Mr. Xi was forced to step aside but will stay in place until a major party meeting later this year."
It's not surprising that some in China may think Xi's failed, especially in allying with Putin. The Atlantic Council recently wrote, "Xi's inability to anticipate Putin's military failures and mounting war crimes could increase doubts about the Chinese president's judgment across a number of other fronts as well." No one likes being friends with a loser. 
With the possibility of Xi's ouster comes the potential that he strikes out against his neighbors to save his own hide. Some recent intel revealed that China may be planning for its own version of attacking Pearl Harbor. USNI News lately sounded the alarm: "China has been honing its ship-killing skills for potential future conflicts on new targets in a remote desert, according to new satellite photos reviewed by USNI News. New analysis shows the People's Liberation Army is testing the ability to hit ships in port with long-range ballistic missiles." 
The story is explained in more detail, "Eight miles southwest of an elaborate aircraft carrier layout, a site with full-scale piers and a destroyer-sized ship-like target was constructed in December. A test missile hit a dead center on the ship replica in February."
China has at least four hypersonic anti-ship ballistic missiles (ASBMs), which "are an increasingly significant threat to warships," and raised concerns from American military officials in their latest report to Congress about American readiness for conflict with the Asian power. 
The Pentagon also noted that China has "numerically the largest navy in the world with an overall battle force of approximately 355 ships and submarines, including approximately more than 145 major surface combatants."
The most likely hotspot of conflict between the United States and Communist China continues to be over the independence of Taiwan, which mainland China claims as its own, and America, including Joe Biden who was last seen weirdly yelling about food shortages that he helped create, has sworn to defend. Last week the Chinese "deployed forces all around the island of Taiwan over the weekend in a set of large-scale military drills that one Chinese military analyst called a 'rehearsal of possible real action.'"
Over the past few months, Taiwan News has laid out the problems facing the CCP, speculating how the entire system could collapse as the citizenry loses confidence in the communist party. 
[Read More: Meet Hunter's Millionaire Sugar Brother From Another Mother]