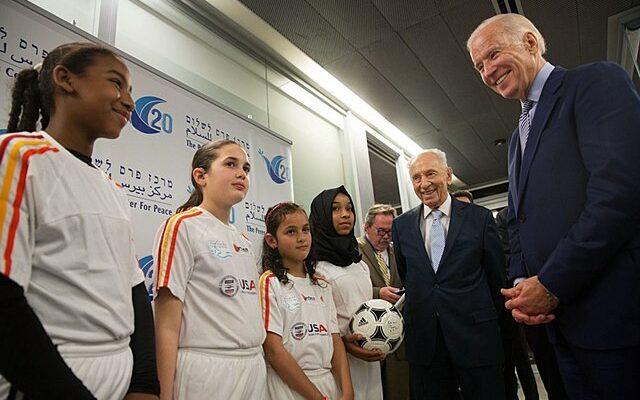 The Biden Administration is wholly committed to fighting a culture war rather than allowing states to decide issues related to transgender women dominating women and girl's sports. The Department of Education released a new regulation under Title IX that goes after state bans on allowing transgender women, that is men who have declared themselves to be women, to compete in women's sports. 
The Washington Examiner writes that "the proposed regulation, which now enters a 30-day public comment period, requires schools to allow students in elementary grades to compete in sports programs and activities based on their gender identity and curtails attempts to restrict participation based on biological sex in order to comply with Title IX. For older students, especially high school and college athletes, the department said some sex-specific restrictions could be acceptable.
The regulations, if finalized in their current form, would create a clash between the Biden administration and numerous states, including Florida, Kansas, and Wyoming, that have enacted laws requiring students to compete based on their biological sex, regardless of their gender identity. Proponents of those laws, which have been passed almost exclusively by Republicans, say they are necessary to ensure fairness in athletics, especially women's sports programs."
Biden also continued to double down in supporting elementary-aged children transitioning. 
The Examiner continued: "The new regulations, while banning sex-specific requirements for elementary-aged programs, allow some flexibility for schools to adopt sex-based eligibility criteria for high school and college sports programs.
"One-size-fits-all policies that categorically ban transgender students from participating in athletics consistent with their gender identity across all sports, age groups, and levels of competition would not satisfy the proposed regulation," the Department of Education said in a press release. "Such bans fail to account for differences among students across grade and education levels. They also fail to account for different levels of competition—including no-cut teams that let all students participate—and different types of sports."
The regulations come on the heels of a top Biden official declaring that the administration fully supported hormone therapy for minors. 
The New York Post reported, "Assistant Secretary of Health Rachel Levine has been called "reprehensible" for proudly announcing that "gender-affirming" treatment of transgender kids is supported "at the highest levels" of President Biden's administration.
Levine, the highest-ranking transgender official in US history, made the claim at a talk in Connecticut last month when asked about criticism of health centers treating children with the likes of puberty blockers and hormones.
"I can say that the children, their families and you all as their providers have support at the highest levels of the federal government," Levine told the Pediatric Grand Rounds session in Hartford.  
"President Biden supports you … Vice President [Kamala] Harris supports you. Across the administration, the departments support you," she said, adding that she talks "about this topic everywhere I go."
In February, Missouri's senior senator and attorney general announced new investigations into the Washington University Transgender Center after a whistleblower lifted the lid on what's happening there to trick kids into surgery and sterilization. 
The whistleblower, Jamie Reed, a 42-year-old leftwinger from St. Louis, said that she saw blatant abuse while working as a case manager at the Transgender Center from 2018 to 2022. She claimed that doctors there encourage girls to transition rather than talking to them about mental health issues they are facing. 
She also blasted the Biden Administration for lying to the public about the sterilization of children in the name of promoting transgender procedures. Rachel Levine, assistant secretary at the U.S. Department of Health and Human Services, a transgender woman has said, "It's not like anyone who arrives automatically gets medical treatment."
Reed and many others have pointed out that there is a huge financial incentive for hospitals to promote the transitioning of children, who will need years and years of medical treatments. 
One hospital administrator was even caught on video bragging about how much money the procedures bring in. 
Dr. Stanley Goldfarb of Do No Harm organization, a national association of medical professionals that combats "woke" activism in the healthcare system, told Fox News Digital that there is "no good evidence that children treated with gender-altering hormones or puberty blockers improved mental health assessments."
"Levine's appearance at Connecticut Children's Hospital praising 'gender-affirming care' for minors and claiming it will be fully embraced is wrong and must be countered," Goldfarb said. "There is no good evidence that children treated with gender-altering hormones or puberty blockers have improved mental health assessments." 
"Despite assertions to the contrary, a recent study from the University of Washington showed that there was absolutely no change in the psychological well-being of children with gender dysphoria treated with these medications," Goldfarb continued. "There can be irrevocable harm being done to children by those pushing for these radical, ideologically driven, treatments. Treatment for minors needs to be based on rigorous scientific inquiry, not on dubious, agenda-driven studies or the demands of activists."
Transgender men dominating women's sports has been a topic of conversation over the past few years. ESPN's Sage Steele recently defended women who protested having to compete against transgender swimmer Lia Thomas, who was an average college swimmer while competing against men, but became a national champion once the competition became against women. 
You are the one who has been through so much, yet you have stood strong, stood up for what you/we know is right, and had the courage to condemn what we all know is wrong. Through it all, you haven't wavered. Amazing. I truly believe this will all pay off. Stay strong!! xo 💪🏽🙏🏽

— Sage Steele (@sagesteele) March 27, 2023
Last week, the Daily Express noted that "a bearded weightlifter has smashed a women's record held by a transgender athlete. A video posted by the Independent Council on Women's Sports (ICONS), shows male Avi Silverberg entering the Heroes Classic tournament in Lethbridge, Alberta, and breaking the women's record after identifying as female.
In the clip, Avi can be seen wearing a regular men's singlet and bench-pressing nearly 167kg, beating the current Alberta women's record by almost 45kg.
The previous record was held by transgender athlete Anne Andres, who bench-pressed 124kg. Ms Andres is seen watching Avi whilst volunteering at the event."
Greg Gutfield discussed the weightlifter on his highly-rated show "Gutfield"
[Read More: At CUNY, Protesters Call Pelosi 'Sad, Old Drunk']