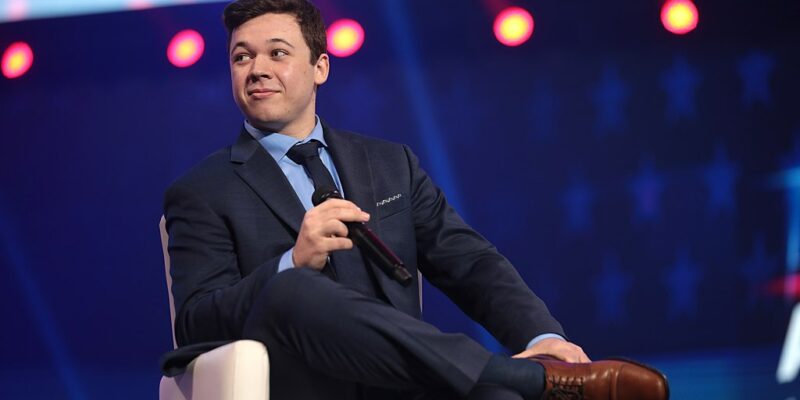 Kyle Rittenhouse, the teen who shot three men in self-defense during the Kenosha, Wisconsin riots of 2020, has once again found himself in court. Unlike his criminal trial, however, he took a loss. 
A federal judge in Wisconsin has ruled that a wrongful death civil lawsuit may go forward. The suit has been brought by the family of Anthony Huber, one of the men Rittenhouse fatally shot on that fateful night. 
"Videos from the scene show Rittenhouse carrying an AR-15-style rifle, walking the city's streets with a group of armed men. Gittings told CNN her boyfriend launched at the armed individual to protect her and other people nearby," according to CNN.
"Huber appeared to reach for Rittenhouse's gun with his hand while holding his skateboard in the other, the criminal complaint said. As Huber tried to grab the gun, Rittenhouse pointed it at his body and fired one round, according to the complaint. Huber was seen staggering away and then fell to the ground, the complaint said. He died from his gunshot wound.
During his testimony, Rittenhouse said Huber was "holding a skateboard like a baseball bat," which he swung down, hitting Rittenhouse in the neck. Richards, the defense attorney, said before Rittenhouse shot Huber, the shooting victim "strikes him in the head" and is going for a "second lick," adding Huber's "other hand goes for the gun" in Rittenhouse's hand." 
A DNA analyst said that none of Huber's DNA was found on the gun, but that such a finding did not rule out that he tried to grab it from the teenager. 
In August 2021, Huber's father accused the Kenosha Police of deputizing the armed people, including Rittenhouse, and filed a lawsuit in federal court. 
Rolling Stone writes, "While the lawsuit was originally filed against Wisconsin law enforcement in 2021, Rittenhouse was added as a defendant in January of last year. John Huber, the father of Anthony Huber, has accused Rittenhouse of conspiring with law enforcement to harm protesters.

Despite counter claims from law enforcement and Rittenhouse, and reports that Rittenhouse went to great lengths to avoid being served, Adelman determined that Huber's complaint "adequately pleads federal and state claims against the governmental defendants and Rittenhouse."

The complaint alleges that Rittenhouse and other armed counter-protesters "were subject to a different set of rules and were allowed to move about freely in areas controlled by the Law Enforcement Defendants," in contrast to the treatment of protesters. Despite openly carrying a rifle, the complaint states that Rittenhouse was never questioned by authorities. At the time, Rittenhouse was a minor unauthorized to possess such a weapon. The lawsuit further alleges that law enforcement "[forced] protestors into a confined area with hostile, armed individuals," and failed to "protect the protestors from violence perpetrated by the armed individuals," resulting in Huber's death.

Adelman stated in his ruling that Huber's death could have been "proximately caused by the actions of the governmental defendants." The judge described the complaint as alleging that "the only reason Rittenhouse was allowed to walk away after shooting three people was because he was white and because he was affiliated with the armed individuals."
Rittenhouse's attorney, Shane Martin, told the Associated Press, "'While we respect the judge's decision, we do not believe there is any evidence of a conspiracy and we are confident, just as a Kenosha jury found, Kyle's actions that evening were not wrongful and were undertaken in self defense,' Martin said.
Attorneys and private investigators for John Huber spent over 100 hours trying to locate Rittenhouse, tracking down addresses in seven states before they found the home of his mother and sister in Florida. The lawsuit was served on Rittenhouse's sister, who said that he wasn't home. Adelman said that was sufficient to qualify as being served.
Rittenhouse had argued that the case against him should be dismissed because he wasn't properly served with the lawsuit. Adelman dismissed that, saying that Rittenhouse 'is almost certainly evading service.'"
Kyle Rittenhouse, The New York Times explained, "was found not guilty of homicide and other charges on Friday, in a deeply divisive case that ignited a national debate over vigilantism, gun rights and the definition of self-defense.
After about 26 hours of deliberation, a jury appeared to accept Mr. Rittenhouse's explanation that he had acted reasonably to defend himself in an unruly and turbulent scene in August 2020, days after a white police officer shot Jacob Blake, a Black resident, during a summer of unrest following the murder of George Floyd by a Minneapolis police officer."
Because Democrats grotesquely view every tragedy as a political opportunity, the latest example being the funeral of Tyre Nichols, a man brutally killed by police, all of who are African American, in Memphis, Kamala Harris used Rittenhouse's not guilty verdict to rally her supporters. 
At the time, she said, "I'm disappointed in the verdict, I have to tell you," Harris said. "I think it speaks for itself. But I also have spent the majority of my career focused on what we need to do to ensure that the criminal justice system is more fair and just, and we still have a lot of work to do."
The Huber case is one of many civil suits that have been filed against Rittenhouse. Last year, the man shot by Rittenhouse who did not die filed a similar lawsuit.
For his part, Rittenhouse has not faded away into the background and instead cultivated an "influencer" public profile. He has nearly 1 million followers on Twitter and has been a featured speaker at conservative gatherings.
[Read More: Americans Agree That Govt Is The Problem]