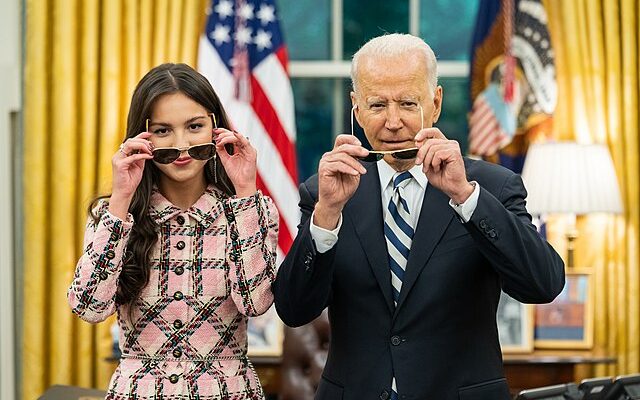 It's remarkable how "anonymous sources" always seem to come out of the woodwork to protect Democrats. Over the weekend, a Chinese spy balloon floated across the United States while President Biden sat on his hands in the White House. The president let the balloon traverse the entire country before the military finally shot it down after presumably gathering what it wanted. 
"Republicans are expressing outrage at the Biden administration's lack of transparency with the American public over the Chinese surveillance balloon that has been hovering over the U.S. for days.
The existence of the inflatable drone was first confirmed on Thursday when it was reported by the Billings Gazette after it was spotted over Montana, home to one of the U.S. military's three nuclear missile silos. 
A subsequent report from Bloomberg found that the president was made aware of the balloon, and its dangerous threat, days earlier on January 28. 
The decision to keep the story quiet as officials were worried the hysteria caused by the balloon would derail Secretary of State Antony Blinken's upcoming meeting with Chinese President Xi Jinping," The Daily Mail wrote.   
Former President Donald Trump took to social media to demand that Biden shoot down the balloon. He also claimed that this would never have occurred under his watch. 
That's when the "anonymous sources" in the intelligence community went to work. A few hours after Trump's message, news began trickling out that balloons had entered American airspace during Donald's presidency. It's just that no one had noticed, even though the most recent spying device was seen with the naked eye across the country and social media was filled with pictures and video of the the Chinese aircraft.
Fox News reported, "Information suggesting that Chinese spy balloons traveled over the continental United States during the Trump administration was "discovered after" former President Donald Trump left office, a senior administration official told Fox News.

A defense official on Saturday said Chinese spy balloons briefly traveled over the United States at least three times during the Trump administration.

But on Sunday, a senior administration official told Fox News Digital that "U.S. intelligence, not the Biden administration" assesses that "PRC (People's Republic of China) government surveillance balloons transited the continental U.S. briefly at least three times during the prior administration and once that we know of at the beginning of this administration, but never for this duration of time."

The official told Fox News that "this information was discovered after the [Trump] administration left.'"
It's a very convenient "truth" for the Biden White House if the same incompetence occurred under Trump, but it's also likely a lie, at least according to those there.
When reports came out that the same thing had occurred under Biden's predecessor, Trump's former advisors had one reply: B.S.
Here is former Director of National Intelligence John Ratcliffe, telling @MariaBartiromo the Trump-era Chinese balloon incursions claimed by an unnamed Biden administration official did not happen: https://t.co/741fPoaZ9A

— Byron York (@ByronYork) February 5, 2023
Richard Grenell claimed this was another Biden coverup.
It's a hard no from me.

The entire Biden team has been lying and are now scrambling to get help in the coverup.

You shouldn't have believed their anonymous source tale in the first place. https://t.co/gsYcaTtzeL

— Richard Grenell (@RichardGrenell) February 6, 2023
Ask yourself why @jonkarl would quote an anonymous official when every senior national security official in the Trump Administration is on the record saying Jon Karl is wrong. @abc has a serious credibility problem with Karl.

— Richard Grenell (@RichardGrenell) February 5, 2023
She started the lie that Hunter's laptop was Russian disinformation – and hasn't stopped the propaganda since.

Of course @cnn and @jaketapper embrace her. https://t.co/6kIcrm1eqX

— Richard Grenell (@RichardGrenell) February 6, 2023
John Bolton, hardly a fan of Trump, has stated that he was unaware of any such balloon incidents during his time serving as a national security advisor in the White House. He was joined by National Security Adviser Robert O'Brien, Deputy Assistant Secretary of Defense for East Asia Heino Klinck, and acting Defense Secretary Chris Miller, who had previously served as director of the National Counterterrorism Center, in saying that no such incidents occurred.
From the surface, it looks like Biden has got an "anonymous official" lying for him. One commentator explains how this works: "anonymous sources" do not want to share the truth with the public but are merely protecting their boss while twisting in knots after accidentally stepping in it. "Note that they're saying the balloons "went undetected." They claim the balloons' existence was deduced retroactively, after they'd already gone from U.S. airspace.
This retroactive discovery is itself a very helpful retroactive discovery for Joe Biden and his evil,corrupt, and woke military leadership, who knew about the balloon for a week and tried to keep it a secret from the American People they definitely do not serve.
Now you understand the beauty of the anonymous Woke Army official claiming 'We didn't detect the balloons, we just figured out they had entered the country after they'd left the country.'
They have an explanation as to why Grennell and Ratcliffe were never briefed about these alleged balloons. They can say, These things happened, as we are anonymously claiming, but we never briefed you about it, because we didn't actually ever detect the balloons when they were actually present, but only figured it out later."
Biden has had several shady connections with China over the decade and being so soft on having American airspace infiltrated by the CCP would only raise even more suspicions. 
NCP reported, "As more investigators look at Biden's shadiness, the think tank at the University of Pennsylvania is getting more scrutiny. Biden Center for Diplomacy and Global Engagement has been labeled a "dark money nightmare" because it received millions of dollars from communist China in the form of "anonymous" donors. 
The Republican leading the charge recently told Fox News that Biden's deep connections to China was "unprecedented."
To be clear, when they say classified documents "found at Biden's private office," they mean found at Penn Biden Center for Diplomacy and Global Engagement, a think tank funded with millions of dollars from China. https://t.co/DwULesJ6hu

— Thomas Massie (@RepThomasMassie) January 12, 2023
Biden seems to have a soft spot for China. Last July, the White House was selling America's oil reserves to the country, funneling it through a company connected to Hunter Biden. 
"In October," Fox News said, "the Department of Energy (DOE) awarded the grant to Microvast, a Texas-based maker of technology for electric vehicle batteries, under the $1 trillion infrastructure package President Biden signed into law in November 2021. Microvast was one of just 20 American companies to receive a portion of the nearly $3 billion appropriated for a program designed to boost domestic battery manufacturing capabilities.
However, 69 percent of Microvast's revenue was generated in China and just 3 percent came from the U.S., according to a third quarter financial disclosure it filed with the Securities and Exchange Commission (SEC) last month. In the same filing, the company acknowledged that the Chinese government "exerts substantial influence" over its business activities and "may intervene at any time and with no notice.'
The SEC filings by the company are disturbing: "The PRC government may exert, at any time and with no notice, substantial interventions and influences over the manner in which we conduct our business activities, which we may not be able to anticipate," the company stated. 
It's no surprise that the Biden White House wants the balloon saga to seem to be a big deal. At best, it shows Joe Biden doesn't know what he's doing, at worst, it shows that he's willing to let China invade our airspace. 
But one House member is unlikely to let this story die quietly. "Rep. Marjorie Taylor Greene (R-Ga.) on Monday called for a probe into why former President Trump was apparently not informed of previous Chinese surveillance balloons that Biden officials are saying crossed over the U.S. at least three times during the previous administration, wrote The Hill.
"If it's true the Pentagon purposely did NOT tell President Trump of Chinese Spy Balloons during his administration then we had a serious breach in command during the Trump admin," Greene said on Twitter."
Will we learn the truth? Or do we only learn what might help Democrats? The answer might be up to Speaker Kevin McCarthy and his willingness to investigate. 
[Read More: Koch Brothers Coming After MAGA]