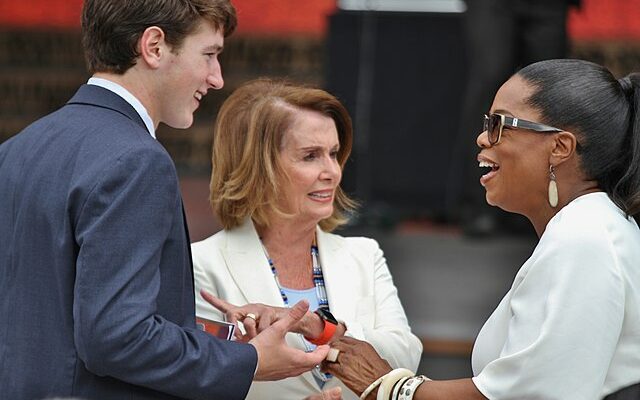 Over the past few months, Senator Dianne Feinstein has been struggling with some health issues that would limit anyone in their late 80s. We noted in April that the most dangerous place to be in Washington was between a group of liberals and a little bit more power. 
"Eight-term senator Dianne Feinstein has been missing in action since February, and it's begun to put Senate Democrats in a bind. They are desperate to continue to fill the judiciary with far-left judges, but without Feinstein sitting on her seat in the Judiciary Committee, they can't do so. 
Now they find themselves begging "for kindness" from their Republican counterparts, hoping they'll just be a rubber stamp for the liberal packing of the courts by kicking Feinstein off of her committee.
"U.S. Rep. Ro Khanna of California was one of the first Democratic lawmakers to openly call for Feinstein to resign as her continued absence is hindering the judicial confirmation process, saying she can "no longer fulfill" her duties in the Senate. Shortly afterwards, Rep. Dean Phillips of Minnesota tweeted that it is a "dereliction of duty" for Feinstein to remain in the Senate."
Despite returning to Washington earlier in the month, the Californian has looked…rough. The New York Post noted, "When asked by a reporter Tuesday about the reception she's received from colleagues upon her return, Feinstein lashed out at the journalist and provided answers indicating that she was seemingly unaware that she had been out.
'No, I haven't been gone," Feinstein said. 'You should follow the — I haven't been gone. I've been working.'
When asked if she meant that she'd been working from home, the senior senator from California responded, 'No, I've been here. I've been voting. Please. You either know or don't know.'
Feinstein, who was being maneuvered through the Senate in a wheelchair pushed by a staffer, also told a reporter that she was 'feeling fine' but had 'a problem with the leg.'" 
The New York Times reported that many "people close to Ms. Feinstein, a six-term senator, described seeing her operating in the Senate in her current state as 'frightening,' a tragic end to a formidable career in politics that they worry is casting a shadow over her legacy and her achievements." 
The California senator's recent problems, however, has led to some intriguing speculation about whom Governor Gavin Newsom might pick if she were to resign before the completion of her term. 
Are you ready for Senator Oprah? 
SFGate.com writes, "Among the many plot lines in the Dianne Feinstein saga is Gov. Gavin Newsom's pledge to appoint a Black woman to replace the 89-year-old should a vacancy arise before her term expires in January 2025.

He made that promise during his 2021 anti-recall campaign, and a new article from the Associated Press' Michael R. Blood conveys the extent to which the governor may have boxed himself in. While many Black Democrats expect the governor to follow through on his pledge, the two candidates who seemed the most likely at the time of the pledge — Reps. Barbara Lee and Karen Bass — may no longer be options. Lee is running against Rep. Adam Schiff to succeed Feinstein, so Newsom may want to avoid tilting the scales in that race. Meanwhile, Bass just began her tenure as mayor of Los Angeles.

For whatever it's worth, people in "California circles" often float a ton of unsubstantiated gossip that's more "Hey, I'm just spitballing myself here" versus "Hey, a person close to the actual decision-maker told me this thing." On the Oprah rumor specifically, however, there's reason to believe it may be closer to the latter than the former.

Winfrey has publicly teased running for president one day but ultimately passed on running in 2020. Still, CNN reported in 2018 that she was taking a presidential bid seriously. If Winfrey wants to be a candidate in 2028 or beyond, gaining political experience as a caretaker in the Senate until January 2025 would certainly help her cause. And even if she doesn't want to run for president, simply being able to say "Oh, I was once a United States senator" is fun, too.
Feinstein has pledged to serve the rest of her term, which ends in 2025. Moreover, The New York Post also noted that "the eldest daughter of former House Speaker Nancy Pelosi (D-Calif.), Nancy Corinne Prowda, has been photographed functioning as Feinstein's caretaker in the hallways of Congress — in what some see as a power move by the senator's fellow San Franciscan."
Several prominent Democrats have already filed to run to replace her in the upcoming election, including Alex Padilla, Kevin de León, and Barbara Lee. Alex Padilla currently serves as California's Secretary of State, Kevin de León is a former California State Senator, and Barbara Lee is a U.S. Representative for California's 13th congressional district. 
Would they bow down to the Queen of All Media?
[Read More: DeSantis Announces His Candidacy And Is Met With Liberal Rage]