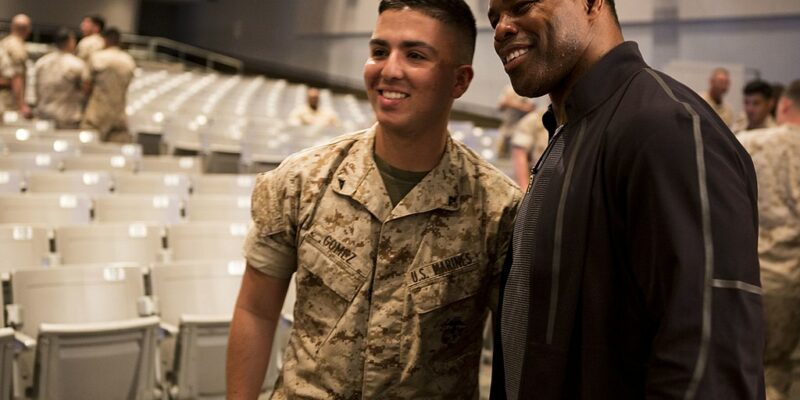 Things are heating up in the Senate runoff in Georgia, and it looks like Republican Senate candidate Herschel Walker has taken the gloves off. The former University of Georgia football star recently upset liberal supporters of Warnock by connecting him to abuse that happened at a summer camp associated with the Senator's church where he is a reverend.
Newsweek writes, "The video of Walker's remarks shared to Twitter has now been viewed more than 400,000 times, with some social media users strongly criticizing the Republican and suggesting his comments were defamatory.
Advertisement
[CLICK HERE] to HELP Herschel Dig Deep and Beat Warnock!
The footage was shared on Monday by Twitter account @PatriotTakes, which describes itself as "researchers monitoring and exposing right-wing extremism". It also said Walker's comments as "a potential defamation lawsuit."
Herschel Walker falsely accused Raphael Warnock of sexual and physical abuse at a youth camp.

Walker: "This young man said there was sexual abuse and there was physical abuse. I'm like, who did that? It has to be Senator Raphael Warnock because he was responsible for it." pic.twitter.com/EOB4MYwJMF

— PatriotTakes 🇺🇸 (@patriottakes) November 21, 2022
"The Republican appears to have been referring to allegations made by a former camper at a summer camp run by Warnock," the magazine continued, "reported by The Washington Free Beacon in December 2020."
The newspaper reported at the time that Warnock, "Maryland health officials deemed Georgia Democratic Senate candidate Raphael Warnock's church-run summer camp unsafe to operate due to a spate of unreported child abuse allegations and safety-code violations, according to state records obtained by the Washington Free Beacon.
The records, from the Maryland Department of Health and Mental Hygiene, paint a picture of an environment where campers were routinely left unsupervised, staffers were not subject to required criminal background checks, and at least five cases of child abuse or neglect were brought against the camp's director, who was ultimately forced to resign.
The documents raise new questions for Warnock, who has faced scrutiny over his 2002 arrest for allegedly hindering and obstructing a child abuse investigation at the camp by Maryland State Police. In an arrest report published by the Free Beacon, police said Warnock interrupted police interviews with counselors, discouraged subjects from talking to investigators without the camp's lawyer present, and was "extremely uncooperative and disruptive." The charges against Warnock were later dropped by the state attorney's office.
The Department of Health and Mental Hygiene records indicate that during Warnock's tenure as the pastor for Douglas Memorial Community Church, the camp it operated—known as Camp Farthest Out—failed to properly report multiple child abuse incidents involving camp staff, leading the department to revoke its certificate to operate."
The Free Beacon has been a major thorn in the Georgia senator's side. It recently reported that, like other prominent Georgia Democrats, Warnock seems to have played fast and loose with federal money to help some friends make a buck.
The paper accuses the Democrat of guiding nearly $16.5 million in federal earmarks that benefitted a friend who co-owns a controversial apartment complex aimed at providing housing to those with low incomes. The money has caused concern about whether Warnock has used his position of power to further business relationships with the Columbia group of companies, a real estate company in the area connected to his church.
The newspaper writes, "Funding was intended to construct a trail connecting a residential and commercial complex known as "Pittsburgh Yards" with other portions of Atlanta's BeltLine. The developer of Pittsburgh Yards is Columbia Ventures, part of the Columbia group of companies that co-owns and operates a low-income housing complex with Warnock's church.
Warnock's Ebenezer Baptist Church, where he serves as senior pastor and CEO, in 2005 "formed a partnership with Columbia Residential to rehabilitate [a] dilapidated high-rise" and turned the building into low-income apartments. Ebenezer and Columbia are co-owners of the business through a joint venture, with Ebenezer owning 99 percent and Columbia owning the remaining 1 percent, according to a state grant application filed by the entities in August."
Warnock's church apartment complex has become an issue in his race against Republican challenger Herschel Walker ahead of Georgia's December 6 Senate runoff. Walker launched an ad campaign last week raising concerns about evictions and living conditions at the building.
Columbia Residential, which manages the apartments, has filed eviction proceedings since the start of the pandemic against over a dozen residents, including one tenant who owed just $28.55 in late rent, the Free Beacon first reported. The apartment building has also been hit with multiple city code violations over rodent and bug infestations, overflowing trash rooms, and mold issues, according to records obtained by the Free Beacon."
The Georiga Senate runoff race remains crucial to both Republicans and Democrats. Although Democrats have secured a majority in the Senate over the next two years, they do so with the slimmest of margins.
The AP has noted, "If Warnock wins the runoff against Republican Herschel Walker, Democrats will have 51 seats. That would make legislating a lot easier than it is in the current 50-50 Senate, the narrowest possible balance of power. For the last two years, Democrats have had to rely on Vice President Kamala Harris — she is the president of the Senate — to break ties.
Republicans and Democrats are spending millions of dollars to win the seat in the December 6 runoff in Georgia after neither Warnock nor Walker, a famed former football player, won the necessary 50 percent margin to triumph on Election Day. Warnock beat Sen. Kelly Loeffler in a 2020 special election and is now vying for a full six-year term.
A 51-49 Senate would give Democrats an outright majority, meaning that Schumer wouldn't have to negotiate a power-sharing agreement with Republican leader Mitch McConnell. The two parties had to do that two years ago and also in 2001, the last time the Senate was evenly split."
Essentially, if Walker doesn't win, there's going to be a lot more liberal judges appointed by President Biden.
Senator Majority Leader, Democrat Chuck Schumer, recently told the AP that a split Senate "slows everything down. So it makes a big difference to us."
Polling in the race shows an extremely tight race but currently gives Warnock a slight edge. There is less than two weeks until Election Day.
[Biden's 'Fake' Rail Deal Collapses, Leaving The Economy At Risk]