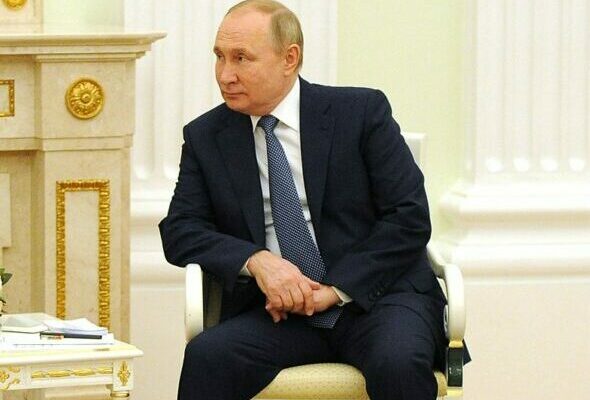 Update: Ukraine's lead spy has claimed that a coup to remove "cancer-stricken" Vladimir Putin from power has already begun.
The Sun reports, "Major General Kyrylo Budanov, 36, believes the tyrant's calamitous war in Ukraine will hit a "breaking point" in summer and be over before the end of the year."
"It will eventually lead to the change of leadership of the Russian Federation. This process has already been launched and they are moving into that way," Major Gen. Kyrylo Budanov told the UK's Sky News in an exclusive interview about the war in Ukraine.
After the interviewer questioned whether the coup had begun, Budanov replied, "Yes. They are moving in this way and it is impossible to stop it."
Foreign Policy recently ran a piece reminding that Putin himself came to power under a soft coup. Titled "The Coup in the Kremlin:
How Putin and the Security Services Captured the Russian State" the article is essential to understanding what's happening in Russia.
Update: The Daily Star is reporting some frightening new information. According to the newspaper, "The threat of Vladimir Putin launching a nuclear war is 'very real' and his 'psychiatric health is bad indeed', an oligarch close to the Russian tyrant has warned.
A prominent billionaire has alerted associates about his health and said 'stories about him going bonkers are not a joke.'
The oligarch said himself and others with prominent business empires closely linked to the leader are fearful over Putin's next move in Ukraine."
The tabloid also states that commanders are prepared to ignore orders from Putin to launch nuclear strikes. Hopefully that is true.
See below for more details:
Putin's appearance on television last week left people wondering: "What's wrong with sickly Vladimir Putin?" The Evening Standard noted, "In a sit-down conversation with a similarly less-than-robust defence minister Sergei Shoigou, the Russian leader, 69, was strangely subdued. He slumped in his chair, his left leg and foot twitching constantly, his face betraying a slight palsy. The left arm was still throughout, dead still. The right hand gripped the table for dear life." The Russian strongman was also seen looking frail and swaying back and forth at a church service recently. 
The Russian leader has been acting haphazardly over the past year or so, even before he launched an invasion of Ukraine. In an interview, former Secretary of State Condi Rice noticed that "Putin's behavior as increasingly 'erratic' and 'delusional' as his forces continue an invasion of Ukraine." 
We may now know why. 
The New York Post is reporting that Putin has cancer. "Russian President Vladimir Putin is set to undergo cancer surgery and temporarily hand over power to a hardline former federal police chief, according to a new report.

Putin will transfer control of Russia's government to Nikolai Patrushev, head of the Russian federal police's Security Council, while he is incapacitated during and after the procedure, according to a video from the mysterious Telegram channel 'General SVR' on Saturday.

The channel — which is purportedly run by a former Russian Foreign Intelligence Service lieutenant general known by the pseudonym 'Viktor Mikhailovich' — reported that Putin has been told by doctors that he must undergo an operation.

The anticipated surgery and recovery are expected to incapacitate Putin for 'a short time,' according to the unconfirmed report."
Howard Stoffer, a University of New Haven professor and nuclear arms control expert, told the Boston Herald that "he is one of a few Americans who has met Patrushev." During his interview with the newspaper, he said, ""It was one of the most amazing meetings I ever had," Stoffer said of a counter-terrorism mission to Russia. "He's very serious. I don't think he'll do anything rash. He's absolutely someone Putin trusts. They came up through the ranks together."
The news comes as the gossip of a Russian coup swirls in the media. According to the rumor, a "number of former generals and KGB officials are preparing to oust Russia's president Vladimir Putin and plan to end the war in Ukraine, which is increasingly seen across Russia as a strategic mistake and, above all, an economic disaster."  
A "vicious blame game" has allegedly exploded among Putin's security leaders. The Mirror has written that "a group made up of former FSB officers called the 'Siloviki' are said to be working together with former officers from other Russian intelligence units to try and push 69-year-old Putin out."
Has anyone seen Secretary of State Blinken lately? One of the last times Joe Biden faced questions about foreign policy, the Easter Bunny interrupted the confused president, likely fearing that he might have yet another blunder. It has been speculated that the administration's director of message planning, Meghan Hays, was wearing the suit. Her job over the past year has been to limit press exposure to Biden at public events to keep him from verbal missteps.
[Read More: Biden Attacks Democracy To Protect Chance To 'Abort A Child']