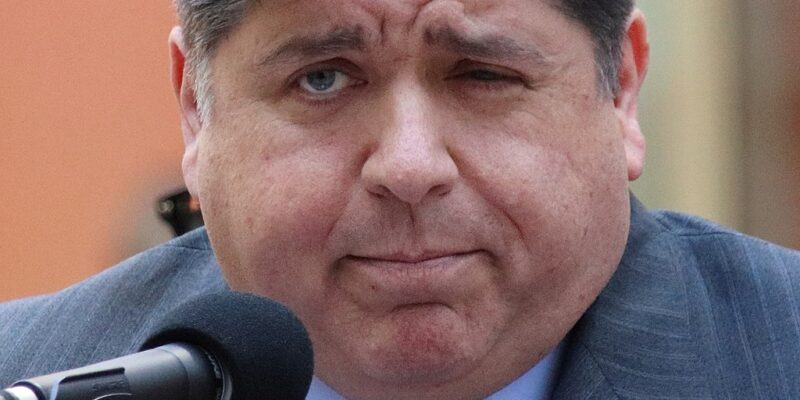 Illinois Democrats are looking to use the power of the government to force private businesses, under the penalty of hefty fines, to provide free election advertising to failing Democratic Governor J.B. Pritzker and his party. State Democrats introduced and passed budget bills in the session's final hours that will compel private retailers to announce to their customers that state leaders have passed "tax relief." 
The Center Square reports: "The budget will require gas stations to post stickers on pumps noting that an inflationary gas tax increase of about 2.2 cents a gallon that's scheduled to go into effect July 1 has been suspended for six months. Retailers that refuse will face a $500 daily fine. Election Day, when Gov. J.B. Pritzker and all state legislative seats are on the ballot, is Nov. 8. Retailers that refuse to post the stickers through Election Day face fines of more than $65,500.

The stickers will say, 'As of July 1, 2022, the State of Illinois has suspended the inflation adjustment to the motor fuel tax through December 31, 2022. The price on this pump should reflect the suspension of the tax increase.'

The sponsor of the measure, state Rep. Mike Zalewski, D-Riverside, couldn't provide an estimate on how much it would cost to put such a sticker on every gas pump.

Grocery stores also must note on receipts "to the extent feasible" that the state suspended the 1% grocery tax for a year. The message on the receipts must say "From July 1, 2022 through July 1, 2023, the State of Illinois sales tax on groceries is 0%." The legislation says 'if it is not feasible for the retailer to include the statement on any cash register tape, receipt, invoice, or sales ticket issued to customers, then the retailer shall post the statement on a sign that is clearly visible to customers. The sign shall be no smaller than 4 inches by 8 inches.'"

Illinois Fuel and Retail Association has announced that they plant sue, stating, "Ordering businesses to take part in speech that is compelled by the government under the threat of fines and criminal penalties is unwise and unconstitutional."
Illinois is consistently ranked as one of the worst states in which to live.
The Land of Lincoln is a prime example of Democratic rule derived from the political machine of a large city. Illinois has the second-worst rate of population loss in the country, only trailing New York, which also is dominated by a city's political machine. A recent study concluded: "Historically speaking, the major reasons Illinoisans are choosing to leave the state are for better housing and employment opportunities, both of which have been made worse by poor public policy in Illinois. Nearly half of Illinoisans have thought about moving away, and they said taxes were their No. 1 reason. Population decline also contributes to the lower economic prospects of the state."
Rather than tackle root causes driving inflation at the pump, the Mayor of Chicago recently floated the idea of sending gas cards to people. 2021 ended with the Windy City seeing the highest murder rate in decades. 
[Read More: Biden Nominates Conspiracy Theorist to Elections Board]