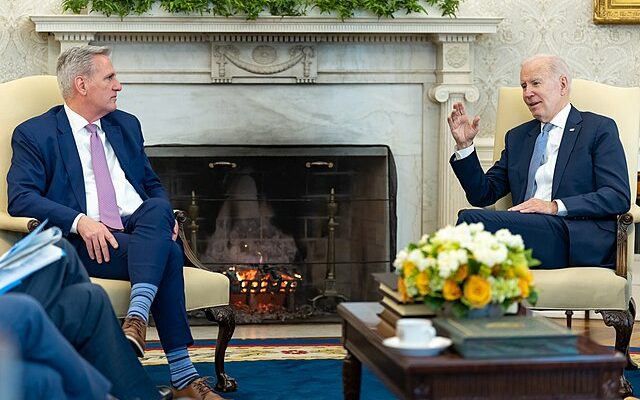 It didn't take too long for Kevin McCarthy to respond to threats from Matt Gaetz and Marjorie Taylor Greene. Fox News is reporting that the Speaker of the House will be supporting an impeachment inquiry into President Biden. 
The prospect of losing his top spot in the House was not a price he was willing to pay to continue his delay.
The House GOP conference plans to hold a meeting on Thursday morning for key committee chairs to lay out their latest findings and the status of the investigations into the Biden family. House Judiciary Committee Chairman Rep. Jim Jordan, R-Ohio, and House Oversight Committee Chairman Rep. James Comer, R-Ky., are expected to lead Thursday's meeting, according to Fox News.

At the meeting, McCarthy is expected to say an impeachment inquiry is the "logical next step" for the Republican majority. An inquiry is the first step of the impeachment process, where evidence is gathered for the articles, or charges, of impeachment against an official.

This special conference meeting on Thursday is in addition to Wednesday morning's regularly scheduled weekly GOP meeting where leadership typically lays out priorities for the week. Thursday's scheduled meeting was first reported by Punchbowl News.

Sources previously told Fox News Digital that Republicans were planning to launch an impeachment inquiry into Biden this month. Three separate GOP-led committees have investigated allegations that Hunter Biden leveraged his father's official government positions to secure foreign business deals. The open question for Republican lawmakers is whether President Biden ever personally benefited from his son's deals or abused the power of his office to influence them in any way.
"The expected next step also comes as McCarthy is laying the groundwork to argue to Republican House members that they need to keep the government funded so they can pursue all of these investigative threads. The government faces a funding deadline by the end of this month in order to avert a government shutdown, CNN reported.
But Tuesday's news will mark a real effort by McCarthy to start moving ahead and get House Republican skeptics on board with proceeding. A source familiar says McCarthy will not put anything on floor until they know what the numbers are. House Republican leadership will need to formally whip votes at some point which they have not yet done."
With the impeachment inquiry moving forward, prepare to be amazed at how many political "news" journalists who pushed the impeachment of Donald Trump over his conversation with Ukraine now suddenly find impeachment to be below the dignity of Congress. 
In the same report, CNN wrote, for example, "The House-led GOP investigations have yet to provide any direct evidence that the president financially benefited from Hunter Biden's foreign business dealings."
Another almost-laughable example of how the Washington media will do everything they can to protect the president came in the form of Washington Post columnist Philip Bump. 
Fox News explained: "During a tense debate with podcast host Noam Dworman, Washington Post columnist Philip Bump left the set when the host kept insisting there is evidence that President Joe Biden knew about, and participated in, Hunter Biden's corruption with foreign business firms.
After more than an hour of Dworman presenting Bump in a podcast appearance last week with what he saw as evidence that the president was involved in his son's corruption during the Comedy Cellar podcast – and the reporter denying it meant anything – Dworman pressed Bump on a text message Hunter sent his daughter claiming he owed his dad '50% of my income.'
Bump, who has written extensively on Biden's son for his outlet, dismissed the question altogether, claiming "I have no idea what that means." The question seemed to be the last straw for Bump, who continued to dodge it and subsequent questions from Dworman, before announcing that he was leaving the show. 
Dworman asked, "What do you take from the text message to his adult daughter – Hunter's text message – 'I have to give 50% of my income to pop.' Bump declared, 'I have no idea what that means. I don't. I have no idea what that means.'
The host stammered in disagreement to which the reporter replied, 'I know, it's circumstantial evidence and you prefer that to direct evidence." 
"No, what, what could it mean?" Dworman asked. Bump again passed on it, saying, "I have no idea. I don't know."
.@JesseBWatters: How does this Washington Post reporter Philip Bump not have a better answer for Hunter's message saying he gives half his salary to his father?@ClayTravis: "I love this interview because it demonstrates the willful blindness here… If they say bad things to… pic.twitter.com/5dBE5rbKZN

— KanekoaTheGreat (@KanekoaTheGreat) September 6, 2023
In July of 2021, emails were revealed in which Hunter Biden "complained that 'half' of his salary went to paying his father's bills while he was Vice President." Over the past year, the House Oversight Committee has shown how the Biden Crime? Family organized itself in order to spread cash around from foreign agents and billionaires. 
I guess it was time that Kevin McCarthy noticed. The Biden White House is expected to put up a vigorous defense of the president's family making millions of dollars from foreign oligarchs. 
[Read More: McCarthy Threatened By Trump Ally To Move On Impeachment]