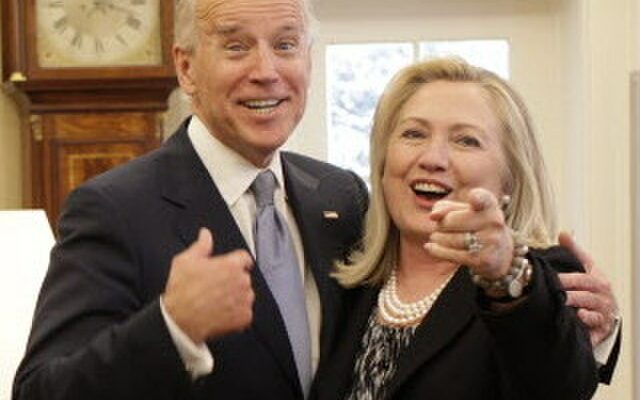 A presidential press conference in Vietnam ended bizarrely on Sunday, once again sparking questions about whether or not the current president is fit for another term. Joe Biden was stopped in the middle of a ramble by staff before being shuffled off stage. The president is traveling through Asia on the way to India for the G20 summit.
Joe Biden's staff cut his mic in the middle of a sentence during a press conference

Who is really in charge?

— Benny Johnson (@bennyjohnson) September 10, 2023
Toward the end of the appearance, Biden was asked about U.S.-China relations by Voice of America reporter Anita Powell about why he hasn't spoken with Xi Jinping in nearly ten months.
Biden's answer proceeded on about how Xi is facing many crises at home. He also mentioned that he doesn't see the lack of recent communication as having a negative impact on relations.
"As a matter of fact," he said. "I think it's less likely to cause that kind of conflict."
"And look, nobody likes having celebrated international meetings, if you don't know what you want at the meeting. If you don't have a game plan. He may have a game plan. He just hasn't shared it with me," said Biden haltingly. "But I tell you what, I don't know about you, but I'm going to go to bed," reported Mediate.
That's when White House staff started stepping in. 
'We talked about stability, we talked about the Third World, excuse me, the Southern Hemisphere has access to change. It wasn't confrontational at all….' Biden said as he rambled on, writes The Daily Mail. 

Suddenly, the booming voice of his press secretary, Karine Jean-Pierre, could be heard butting in.

'Thank you everybody. This ends the press conference. Thanks everyone,' she said as she brought the presser to a close.

In another bizarre twist, jazz music then began to play over the loudspeaker, with the 80-year-old still seemingly trying to answer questions as he continued to speak into the microphone.

As the president tried to answer a few more questions, the music grew louder prompting Biden to put away his leather-backed folder and shuffle offstage, disappearing behind a black curtain.
Following his trip to Hanoi, Biden is expected to fly to Alaska, where he will mark the 22nd anniversary of the 9/11 terror attacks, a move that has upset many New Yorkers.
The New York Post noted that "ex-New York Gov. George Pataki ripped President Biden as a 'disgrace' Thursday over his decision to commemorate 9/11 in Alaska — instead of any of the actual sites targeted in the worst terrorist attack on US soil.
Rather than participating in any observances at 9/11 memorial sites in New York City, Virginia or Pennsylvania, the 80-year-old president will join service members and their families at a military base in Anchorage, the White House confirmed this week.
'The fact that he is not doing anything to commemorate that horrible day is a disgrace,' Pataki, 77, said in an interview with WABC radio.
The former governor railed against Biden for prioritizing the Asia trip over the 22nd anniversary of the terror attacks, insisting the commander-in-chief was grandstanding on other issues, such as climate change, to 'run away from the problems in this country.'
In a blistering attack, Pataki continued: 'I think he is clueless to what's happening in Washington, what's happening in the world and he is obsessed on being the world leader on climate. I don't know what he is doing other than driving up energy costs … and destroying our own energy industry so we have to import energy from elsewhere. It's just ridiculous. He is a failed leader.'"
One outlet offered an explanation for Biden's avoidance of a September 11 Memorial appearance. "The White House is said to be "limiting his public appearances" in order to avoid gaffes.
Peggy Grande, former long term adviser to Ronald Reagan, told GB News that the White House is taking a 'basement strategy' approach – keeping him out of the public eye.
She noted that 'the more he's been in the public eye the lower he drops in the polls.'"
In 2016, Hillary Clinton appeared at a September 11 memorial service and appeared to have a health event, which some have argued cost her the presidency. Biden may be looking to avoid the same mistake. 
Biden's latest frailty has caused major concern among Democrats in the Senate, who in private have expressed that they'd wish the president would step aside. 
One Democratic senator who requested anonymity from The Hill "said voters at home expressed deep apathy about Biden's prospective reelection during constituent meetings over the August recess.  
The senator said the polling data "reflect all the miscellaneous encounters I'm having all the time." 
'There's just no enthusiasm,' the senator said. 'It does pretty much come down to 'Well, he's done a pretty good job, but he's just too old.'" 
The senator dismissed the possibility Biden will face any real competition for his party's presidential nomination but also noted that many of their constituents — especially younger voters — "are hungry for new faces in leadership."  
[Read More: Police Called On Biden Cabinet Member]