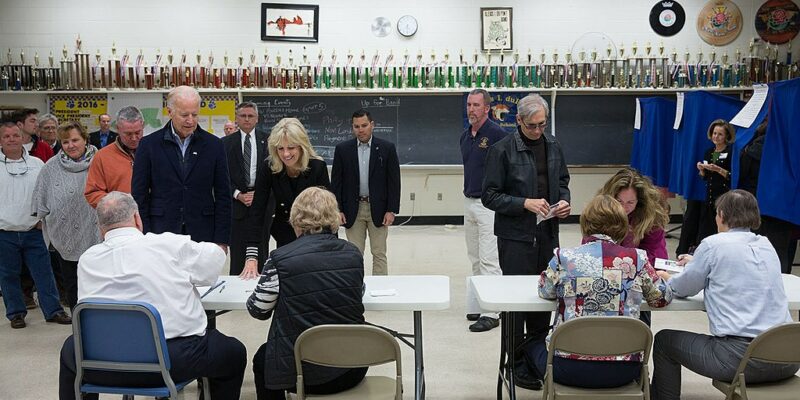 Another federal panel has blocked the White House from sending taxpayer money directly to a group that leans heavily Democratic in the form of loan forgiveness. 
Federal judges have once again reminded the Boss Tweed Biden that Congress exists and he can't just pass around cash to supporters.
A three-judge panel on the U.S. Court of Appeals for the 5th Circuit granted an injunction request by Career Colleges & Schools of Texas, a group that leads more than 70 for-profit higher education institutions in Texas, while the ruling is under appeal, reports The Washington Examiner.

The two-page order did not explain the reasoning for the decision but noted that the case would be heard this fall.

"It is ordered that appellant's opposed emergency motion for injunction pending appeal of the borrower-defense and closed-school provisions of a 'rule' governing student loan discharges is GRANTED," according to the brief decision.

The group's lawsuit stems from an April filing against the Education Department. The Biden administration rules went into effect in July and aims to expand the number of circumstances that justify loan relief.
President Biden had previously tried to give nearly half a trillion dollars to his mostly white, fairly wealthy students who did not qualify for financial aid from their universities. 
The National Review explained the president's cynical motive, "When President Biden entered office, the fact that he didn't have the authority to unilaterally cancel student loans was so uncontroversial that even Nancy Pelosi acknowledged it. 'People think that the president of the United States has the power for debt forgiveness,' the then–House speaker said at a press conference in July 2021. 'He does not. He can postpone. He can delay. But he does not have that power. That has to be an act of Congress.'
But Biden, eager to shore up the youth vote ahead of the 2022 midterm elections, eventually caved in to pressure from progressive activists and attempted by executive fiat to forgive $430 billion worth of student loans (which would translate into up to $20,000 per borrower). While there was no serious doubt over the fact that he lacked the authority to do this, the question was whether anybody had the ability to establish standing in court to sue, which requires a plaintiff who could demonstrate injury if the unconstitutional action were allowed to go forward. Thus, at stake in the cases challenging the student-loan-forgiveness program was not merely whether his action was unconstitutional, but whether the president could get away with a usurpation of congressional power by broadly doling out benefits without producing a legally injured party. Put more bluntly, the question was, could Biden hack the U.S. Constitution? In a 6–3 decision, the Supreme Court ruled that he could not."
After the Supreme Court ruled that he could not unilaterally dole out hundreds of billions of dollars to supporters like some sort of authoritarian, Biden promised to look for an "alternative path." 
"The Biden administration announced July 14 that it would soon forgive loans for 804,000 borrowers enrolled in income-driven repayment plans. The plans have long offered cancellation after borrowers make 20 or 25 years of payments, but "past administrative failures" resulted in inaccurate payments counts that set borrowers back on their progress toward forgiveness, the department said.
The new action was announced as a 'one-time adjustment' that would count certain periods of past nonpayment as if borrowers had been making payments during that time. It moved 804,000 borrowers across the 20- or 25-year mark needed for cancellation, and it moved millions of others closer to that threshold.
It's meant to address a practice known as forbearance steering, in which student loan servicers hired by the government wrongly pushed borrowers to go into forbearance — a temporary pause on payments because of hardship — even if they would have been better served by enrolling in one of the income-driven repayment plans.
Under the one-time fix, past periods in forbearance were also counted as progress toward Public Service Loan Forgiveness, a program that offers cancellation after 10 years of payments while working in a government or nonprofit job, according to The Associated Press.
The plaintiffs said that Biden's action was illegal because only Congress could authorize new spending, a novel concept to some Democrats. 
Despite having his massive loan cancelation programs blocked by the Constitution, the White House has found some loopholes in the law pass some cash to some. The Washington Post noted that "to date, the Biden administration has approved $13.5 billion in student loan discharges since 2021 for roughly 1 million borrowers who were defrauded by their colleges. Roughly half of those people have had their balances cleared, according to the Education Department."
[Read More: DOJ Slapped Down By Judge In Trump Case]