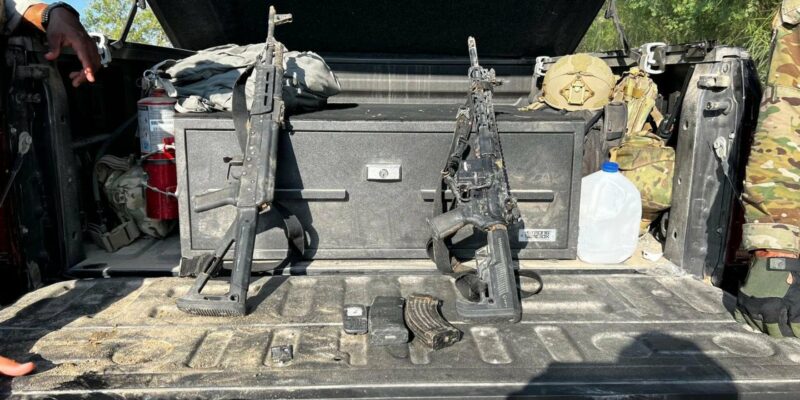 A massive cache of military-grade weapons was recently by Texas Game Wardens and Department of Public Safety troopers after they captured two suspected members of the Cartel Del Noreste. The agents found the weaponry, which included rifles and armor-piercing ammunition, near Fronton, a small border town in southeast Texas. 
The discovery came on August 8 when DPS camera monitors observed two people on an island on the Rio Grande near Fronton. According to a DPS report obtained by Breitbart Texas, one of the men appeared to be wearing tactical gear and was carrying a rifle. According to Breitbart, investigators reported this as the same area where armed men wearing tactical gear had been spotted the week before.

Law enforcement teams took two border crossers into custody while the third absconded to Mexico. The men were found to be wearing tactical gear, including a "tactical chest rig containing six magazines." Officials report the magazines were loaded with .556 green-tip armor-piercing rounds.

The following day, the SOG and ROG teams returned to the area to follow up on intelligence information gathered from the interview of the two Mexican nationals. Border Patrol agents joined the teams. The teams began a search for the two rifles believed to be hidden in the area.

During a search of the river bank Texas Parks and Wildlife K9 Izzy alerted to the possible presence of an article she is trained to detect. The ROG agent made contact with an object in the river with his boot. The object turned out to be an AK-47 rifle with a loaded magazine inserted. No round was loaded in the chamber.

As the search continued, the teams found an M4 rifle. The rifle was loaded with a round chambered, officials reported. The teams also found a cell phone in the area. All items were removed and taken as evidence.
ICYMI: Our U.S. Border Patrol Agents confront threats daily as they do their best to secure our border. Agents working jointly with our L.E. partners made a significant discovery of weapons and ammunition hidden by criminal organizations near Fronton, TX. Well done USBP!! 💚🇺🇸 pic.twitter.com/A0aNKXG7OM

— Chief Patrol Agent Gloria I. Chavez (@USBPChiefRGV) August 11, 2023
What politicians in Washington say about the border and what the reality is for those living there are completely at odds. 
A record number of migrants have crossed the border since Joe Biden took over the White House in 2021. Although those numbers slightly declined in June, they accelerated in July. Much of the traffic of humans and drugs across the border, along with the land, is controlled by the cartels.
"While the Biden administration and its allies in the mainstream media highlight a reduction in illegal immigration since the termination of a Trump-era restriction known as Title 42, Mexican drug cartels have seized unprecedented control of the nation's southwest border," writes Judicial Watch. "The president's reckless open border policies have greatly facilitated the business model of Transnational Criminal Organizations (TCOs) operating in the region and throughout the United States, according to congressional testimony delivered recently by federal sources in counterterrorism, intelligence and drug enforcement.
The hearing, held last week by the House Committee on Homeland Security, exposed information that helps illustrate how the Biden administration has 'threatened our national security and the safety of every American' with its negligent border policies. This includes ending a Trump measure known as Migrant Protection Protocols ("Remain in Mexico") which made illegal immigrants wait in Mexico—rather than in the U.S.—for asylum hearings that could take years. Refusing to finish a border barrier system has also contributed to the crisis as has the implementation of mass catch and release of migrants and failing to properly vet Unaccompanied Alien Children (UAC) or their sponsors. TCOs have capitalized on the weaknesses, according to evidence provided at the hearing. 'The cartels have essentially taken over,' said House Committee on Homeland Security Chairman Mark E. Green, a medical doctor and Republican congressman from Tennessee.
Green reminded the panel that Attorney General Merrick Garland has admitted to the Senate that the cartels' strategy is to tie up the Border Patrol by flooding it because the agency is practicing a catch-and-release system, allowing drug cartels to slip people into the country. The foreign criminal enterprises operate in cities throughout nation with the help of U.S.-based street gangs that have overrun American communities with drugs, according to Jaeson Jones, a former captain of intelligence and counterterrorism at the Texas Department of Public Safety. Jones testified that cartels have highly effective systems that include pushing hundreds of migrants to one location as a distraction to open a route elsewhere after local, state and federal law enforcement resources are deployed to the location flooded by illegal immigrants. They also utilize a reliable network of scouts that operates like an organized law enforcement agency to document border activity and U.S. agents around the clock. The lookouts have eight, 10 and 12-hour shifts and are equipped with encrypted radios to communicate with cartel bosses. 'I've seen them in South Texas as far as 30 miles into the United States," Jones said. "I have seen them in Arizona as far as 70 miles.'
Days earlier at a separate and equally alarming congressional hearing largely ignored by the media, law enforcement sources confirmed that Mexican TCOs are successfully smuggling mass quantities of deadly illicit fentanyl past Border Patrol agents and Customs and Border Protection (CBP) officers into the U.S. The criminal enterprises are not just surreptitiously bringing loads in at land crossings, they are also using drones for smaller stashes that boost billions of dollars in profits. Though federal agents are seizing 'unbelievable volumes of fentanyl,' huge amounts are still getting through and authorities cannot accurately track how much. 'The challenge with something like fentanyl is it being synthetic—there's no agriculture-based place to get an initial estimate,' said James Mandryck, a CBP deputy assistant intelligence commissioner. 'So unlike cocaine or marijuana, where we can kind of do an oversight to see general cultivation estimates, we can't do that with synthetics like fentanyl or methamphetamine.'
The recent congressional hearings documenting how Mexican TCOs have taken over the southwest border come on the heels of equally chilling news in the region, that a record number of suspected terrorists have been caught trying to enter the U.S. through Mexico. Last month Judicial Watch reported that an unprecedented number of foreigners who appear on the Federal Bureau of Investigation's (FBI) terror watchlist known as the Terrorist Screening Database (TSDB) have been apprehended by Border Patrol agents this fiscal year."
Drug deaths in the United States hit a new, horrifying record in 2022. NPR reported that "109,680 people died as the fentanyl crisis continued to deepen, according to preliminary data released by the Centers for Disease Control and Prevention.
Eight states saw drug deaths continue to surge by nine percent or more, with the greatest increases of 21 percent coming in Washington state and Wyoming.
Dr. Nora Volkow, director of the National Institute on Drug Abuse, said it's troubling that deaths continue to rise."
[Read More: Biden Used Aliases To Contact Hunter's Pals]