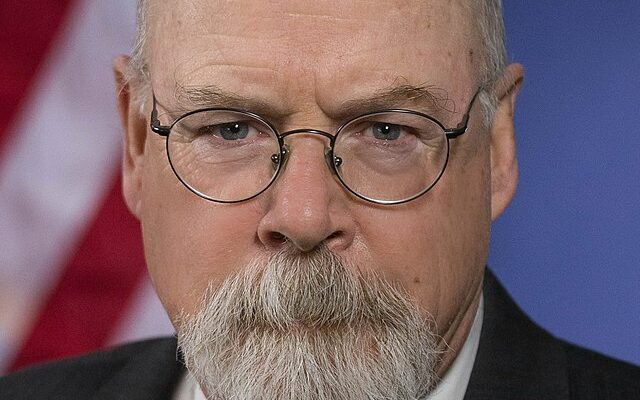 Former Special Counsel for the United States Department of Justice John Durham finally had his day in front of Congress, and he unloaded on the FBI. On Wednesday he told the House Judiciary Committee that the federal government had no substantive grounds to launch a full investigation into the 2016 Trump Campaign in connection that it was "colluding" with Russia. 
Former Attorney General Bill Barr chose John Durham to investigate the FBI probe into its spying on a presidential campaign based on the use of the discredited and obviously partisan "Steele Dossier." 
Durham said "the FBI was too willing to accept and use politically funded and uncorroborated opposition research like the Steele Dossier." That dossier became the foundation for the FBI's investigation but was almost certainly a political document funded by the Clinton campaign, according to The Center Square.

"The FBI relied on the dossier in FISA warrant applications knowing that it likely originated from the Clinton campaign," Durham testified. "It did so even after the President of the United States, the FBI and CIA Directors, and others received briefings about intelligence suggesting that there was a Clinton campaign plan under way to stir up a scandal tying Trump to Russia. The accuracy of the intelligence was uncertain, but the FBI failed to analyze or assess the implications of this intelligence in any meaningful way."

The testimony Wednesday largely echoed Durham's more than 300-page report released earlier this year.

Durham also testified that his investigatory team "found troubling violations of law and policy in the conduct of highly consequential investigations directed at members of a presidential campaign and, ultimately, a presidential administration."

Durham said in his testimony that FBI officials repeatedly abused the FISA system to improperly expand their authority.

"Multiple FBI personnel who signed or assisted in preparing renewal applications for that same FISA warrant acknowledged that they did not believe that the target was a threat to national security, much less a knowing agent of a foreign power," he testified. "It appears that FBI leadership dismissed those concerns."
Fox News wrote that "Durham found that senior FBI personnel "displayed a serious lack of analytical rigor" toward the information that they received from politically affiliated people, which he said "triggered" then-Special Counsel Robert Mueller's investigation. Durham found there was 'significant reliance on investigative leads provided or funded (directly or indirectly) by Trump's political opponents.'
'The Department did not adequately examine or question these materials and the motivations of those providing them, even when at about the same time the Director of the FBI and others learned of significant and potentially contrary intelligence,' the report said.
For example, Durham found the FBI 'failed to act' on a "clear warning sign that the FBI was the target of a Hillary Clinton-led effort to 'manipulate or influence the law enforcement process for political purposes' ahead of the 2016 election.
Durham was referring to intelligence on a plan stirred up by Hillary Clinton's presidential campaign in July 2016 to tie then-candidate Trump to Russia in an effort to distract from the investigation into her use of a private email server and mishandling of classified information."
Asked by Democrats as a way to distract from what he was testifying about, Durham also responded to former President Trump's attacks on former Attorney General under Trump, Bill Barr, whom Trump recently labeled a "gutless pig" and a "RINO."
"In my experience, none of those are correct," Durham said.
"While Durham has embraced many of Trump's gripes about the Russia investigation, there were several key legal matters where Durham notably broke from the former president.
"In addition to rejecting Trump's insults against Barr, Durham said there was 'substantial evidence' that the Russian government interfered in the 2016 election. (Trump accepted Russian President Vladimir Putin's denials.) He also said special counsel Robert Mueller was a 'patriot' whom he had the 'highest regard' for. (Trump has called Mueller a 'national disgrace.')," CNN noted.
Durham also spoke Tuesday behind closed doors to the House Intelligence Committee, telling members that he believes reforms are needed at the FBI and for the Foreign Intelligence Surveillance Act.
[Read More: 'Squad' Member Encourages Eco-Terrorists To 'Take More Action']