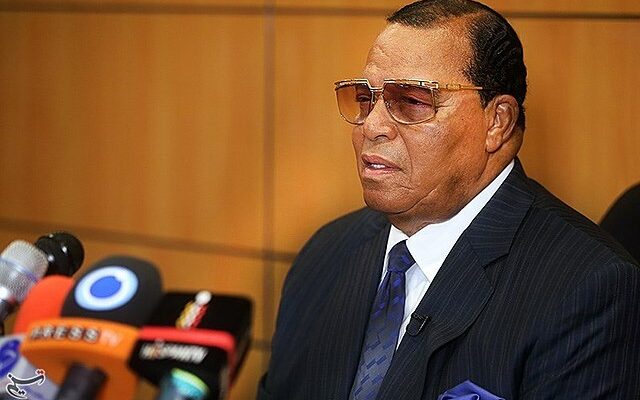 A Republican congressman is now calling for the defunding of National Public Radio after one of its affiliate stations, WEAA 88.9 out of Baltimore, claimed to be the "Official Voice of the Honorable Minister Louis Farrakhan" and plays the leader of the Nation of Islam's antisemitic speeches.
Airing in Washington, D.C. and Baltimore, WEAA "is the NPR affiliated public radio station of Morgan State University, and a service of the university's School of Global Journalism and Communication. We serve as a learning lab to educate and prepare our students for careers in journalism and media, while also providing our broader listener community with music and news programming that enlightens and entertains," according to its website.
The Daily Caller reported: WEAA received over $250,000 in funding in 2021, which is the latest year they uploaded, from the Corporation for Public Broadcasting (CBP) which is entirely funded by Congress.

Farrakhan has a history of "railing against Jews, white people and the LGBT community," according to the Anti-Defamation League (ADL)

"Farrakhan has embarked on a wide-ranging campaign specifically targeting the Jewish community, a campaign that has featured some of the most hateful speeches of his tenure as head of NOI," the ADL's website reads. "Farrakhan has alleged that the Jewish people were responsible for the slave trade and that they conspire to control the government, the media and Hollywood, as well as various black individuals and organizations. He frequently denies the legitimacy of Judaism – or Jewish claim to the land of Israel — arguing that Judaism is nothing more than a 'deceptive lie' and a 'theological error' promoted by Jews to further their 'control' over America's government and economy."

"How did the Jewish people own most of the basketball players? Have you ever considered how did they become so rich, so powerful, so influential? The Synagogue of Satan calls me a hater, anti-semitic, homophobic, anti-white, anti-American. They keep you from a man that has truth in his mouth that will set you free," Farrakhan said in a speech that aired on the NPR affiliate.

"Joe Biden says white supremacy is the nation's greatest threat, but his administration is busy subsidizing the broadcast of Nation of Islam propaganda. Taxpayers should not be supporting Louis Farrakhan's hateful rhetoric. I'm calling to halt any and all taxpayer funding to the Corporation for Public Broadcasting until WEAA stops airing Final Call Radio," Gaetz told The Daily Caller.
Democrats in the House of Representatives are unlikely to support Gaetz's request. In April New Conservative Post reported that the replacement for former Speaker Nancy Pelosi, Hakeem Jeffries, had a history of supporting and defending Farrakhan's antisemitism.
CNN noted that the current Minority Leader wrote a defense of Farrakhan and his uncle Leonard Jeffries while in college. "Dr. Leonard Jeffries and Minister Louis Farrakhan have come under intense fire,' wrote [Hakeem] Jeffries in February 1992. 'Where do you think their interests lie? Dr. Jeffries has challenged the existing white supremist [sic] educational system and long standing distortion of history. His reward has been a media lynching complete with character assassinations and inflammatory erroneous accusations.'
In February 1992, Hakeem Jeffries was a senior at Binghamton University in upstate New York and a board member of the Black Student Union. The BSU extended an invitation for the embattled professor to speak on campus for an undisclosed fee, drawing outrage from some students on campus and members of the Jewish Student Union. The BSU said the profits from the event would go to a foundation in an honor of a student killed in an auto accident.
After a Jewish student group called on the BSU to cancel the professor's speaking engagement, Jeffries led a news conference defending his uncle and his speaking engagement.
'We have no intention of canceling a presentation that contains factual information, proven through scholarly documents and texts,' read Hakeem Jeffries from a statement reported in the student newspaper the Pipe Dream. 'The proper way to debate scholarship is with scholarship–not with high-tech lynchings, media assassinations, character desecrations and venomous attacks.'"
In 2019, NPR made a big announcement that it had banned Farrakhan from its platform. Did the ban not last because liberals see the antisemitic minister as an ally against "white supremacy?" An answer in the affirmative would not be surprising. Democrats see white supremacy as a grave threat to the United States. Might they be willing to accept any allies in this serious fight for the nation?
On Saturday, President Biden said that white supremacy is the "most dangerous terrorist threat" to the nation during a commencement address to Howard University's graduating class.
"White supremacy…is the single most dangerous terrorist threat in our homeland," Biden said, according to Politico. "And I'm not just saying this because I'm at a Black HBCU. I say this wherever I go."
The outlet did not get confirmation of whether or not the president of the United States defines white supremacy the same way that Jeffries and Farrakhan do. 
[Read More: Google Founder Missing After Link To Epstein Revealed]