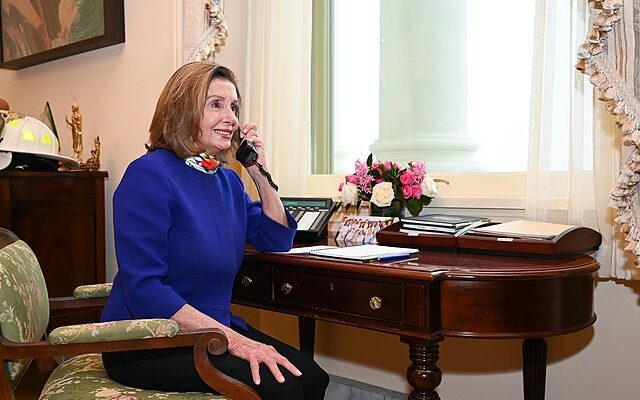 A man in Illinois has sued Nancy Pelosi for violating privacy laws related to unsolicited calls and texts. Last October, Jorge Rojas filed a 13-page lawsuit in the U.S. District Court for the Northern District of Illinois, accusing the former Speak of the House and her campaign of disobeying the Telephone Consumer Protection Act of 1991.
The law blocks robocalling and bans telemarketers from contacting individuals who've placed themselves on the Do Not Call Registry.
Business Insider writes, "As the Supreme Court has explained, Americans passionately disagree about many things," reads the introduction of Rojas's complaint. "But they are largely united in their disdain for robocalls."

According to the suit, Rojas received 21 texts from Pelosi's campaign from November 2021 to July 2022 despite previously placing himself on the registry in 2008 to "obtain solitude from invasive and harassing telemarketing calls."

He went on to argue that he "experienced frustration, annoyance, irritation, and a sense that his privacy has been invaded" by the texts.

Arguing that the texts constituted "malicious, intentional, willful, reckless, wanton and negligent disregard" for his rights, Rojas sought at least $31,500 in damages from Pelosi's campaign, including $1,500 for each text received.
The case was suddenly withdrawn in February, and it appears that Pelosi's camp paid off her accuser through a settlement. 
FEC documents show that he received a settlement. Federal campaign finance disclosures revealed that the dismissal of the lawsuit followed Rojas receiving a $7,500 payment marked "Settlement" from Pelosi's congressional campaign.
The 1991 law has been used by authorities to levy massive fines against telemarketers. One outlet noted, "Since 2015, the Federal Communications Commission has ordered violators of the TCPA to pay $208.4 million. The sum includes forfeiture orders in cases involving robocalling, Do Not Call Registry and telephone solicitation violations. According to records obtained by The Wall Street Journal, the government has collected $6,790 of that amount.
In March 2021, the Federal Communications Commission fined two Texas-based telemarketers $225 million after making approximately 1 billion robocalls to people across the United States. John C. Spiller and Jakob A. Mears, who used business names including Rising Eagle and JSquared Telecom, were responsible for the calls. One of the people involved in the scheme admitted to making "millions" of robocalls per day, even going so far as to go out of his way to call numbers on the Do Not Call list because he believed it would be more profitable to do so.
In August 2021, the Federal Communications Commission proposed a $5.1 million fine for Jack Burkman and Jacob Wohl. Burkman and Wohl were charged with violating election laws and voter intimidation through thousands of robocalls. The pair attempted to suppress votes in multiple U.S. cities – specifically those with significant minority populations – in the 2020 U.S. General Election."
With campaign season right around the corner, hopefully, Rojas's lawsuit will help stop all of our phones from receiving countless text messages as the presidential primaries heat up.
Multiple texts from candidates fundraising for campaigns are not the only political fundraising tactic that has gotten scrutiny over the past couple of years. 
In 2021, The Wall Street Journal reported that "matching donation gimmicks from political campaigns have come under increased scrutiny from federal prosecutors looking to tamp down on misleading fundraising appeals—but former President Donald Trump continues to rely on the technique to woo small donors. Trump's official Save America fundraising committee is still sending appeals with subject lines like "400% impact" that promise to turn a $500 donation into a $2,500 one. Campaign-finance experts warn that the tactic is legally questionable.
Appeals that promise to triple, quadruple or otherwise multiply a donor's money are "material misrepresentations" if there's no evidence such matches actually occur, according to a Justice Department court filing in May against a pro-Trump group that wasn't affiliated with the GOP former president. Such tactics have been popular on both sides of the aisle until recently, though in some cases they likely did involve real pledges to match funds from other donors. But Justice Department's new attention to the practice has made campaigns more cautious."
The two practices are part of a long line of practices that take advantage of small political donors. Don't be surprised if you see another lawsuit soon about pre-checked boxes confusing one-time donors into enrolling in weekly reoccurring contributions, a favorite among Washington grifters.  
[Read More: The Race For 2024 Finally Begins]