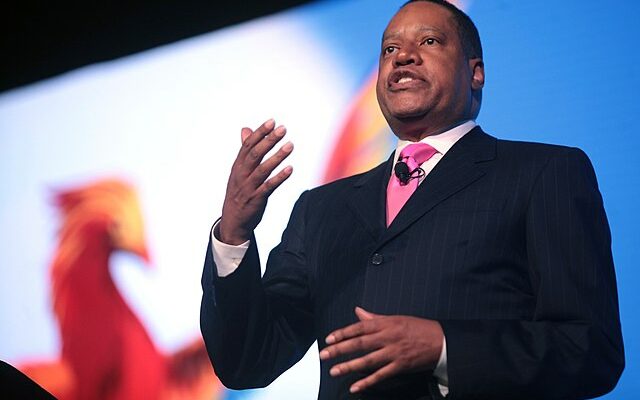 The 2024 Republican presidential primary field may soon be growing. The conservative and former Republican candidate for California Governor Larry Elder is said to "likely" declare his intentions for running for president soon, according to The Daily Caller. 
The outlet writes that "Elder, host of 'The Larry Elder Show,' who previously indicated he would launch a run for the GOP nomination by the end of March or early April, can be expected to announce a campaign by the end of the month, Tom Tradup, a close friend of Elder and vice president of SALEM Radio Network, told the DCNF in an interview. Elder launched into the national spotlight when he ran as a Republican for California's 2021 general election recall to remove Democratic Gov. Gavin Newsom from office.

The conservative host will likely run on restoring traditional values in America, and will capitalize on his often used slogan, "we've got a country to save," according to Tradup.

'If he makes a decision to run, it's because he truly does want to help this country move forward,' said Tradup. '[Americans] are tired of having word-processed, overly lawyered campaign statements that they run through the deflavorizor so that they won't offend anybody. What you end up with is these candidates running who don't stand for anything.'

Elder has made recent trips to key early primary state Iowa and has a political action committee, Elder For America, that continues to rake in donations nationwide, said Tradup. The PAC raised nearly $1.7 million in 2022, according to the Federal Election Commission.
"The Sage from South Central" has long been one of the most articulate voices of conservatism in the media. Last year, Elder gave the keynote address at an Iowa Faith & Freedom Coalition event in Des Moines, which raised eyebrows from election watchers. 
The Des Moines Register reported, "Several hundred Republican donors listened as Elder extolled the importance of strong nuclear families. He recalled the story of his father, who worked several jobs to support his family. 
'We know that our welfare state incentivizes women to marry the government, and incentivizes men to abandon financial and moral responsibility,' Elder said, citing statistics about the number of children who grow up without married parents."
Elder would bring a sense of confidence dealing with the media that no other Republican in the field going against former President Donald Trump currently possesses. 
Could he catch lightning in a bottle? The only way to do so is to try. 
[Read More: Dem House Leader Defended Antisemites]