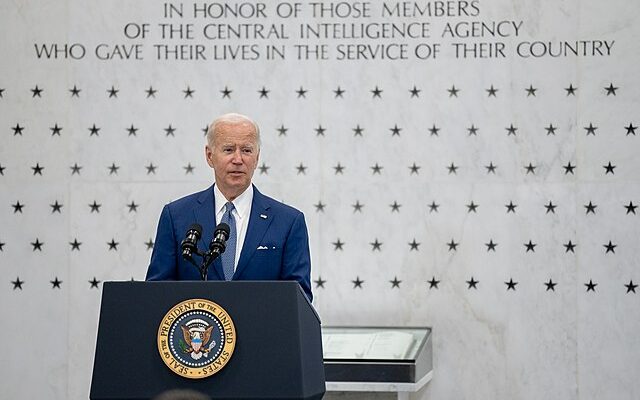 A former CIA official has testified to Congress that he helped orchestrate an organized lie to call Hunter's laptop "Russian disinformation" after being contacted by current Secretary of State Anthony Blinken while the latter worked as an advisor on the 2020 Biden campaign. The revelation is more evidence that the intelligence community actively worked to shape the outcome of the last presidential election after spending four years allegedly trying to undermine the Trump Administration.  
In 2017, then Minority Leader Chuck Schumer claimed that Trump challenging "the Deep State" would come back to bite him.
"He's being really dumb to do this." -Senator Schumer on Trump taunting US intelligence agencies https://t.co/QbGSmx9Xvp

— Maddow Blog (@MaddowBlog) January 4, 2017
The New York Senator was apparently correct.
Fox News writes, "House Judiciary Committee Chairman Jim Jordan, R-Ohio, and House Intelligence Committee Chairman Mike Turner, R-Ohio, sent a letter to Blinken Thursday, notifying him that the panels are 'conducting oversight of federal law-enforcement and intelligence matters within our respective jurisdictions.'
'We are examining that public statement signed by 51 former intelligence officials that falsely discredited a New York Post story regarding Hunter Biden's laptop as supposed Russian disinformation,' they wrote. 'As part of our oversight, we have learned that you played a role in the inception of this statement while serving as a Biden campaign advisor, and we therefore request your assistance with our oversight.'
In October 2020, weeks before the presidential election, dozens of ex-national security officials signed onto a letter claiming that Hunter's laptop had "all the classic earmarks of a Russian information operation."
In October 2020, weeks before the presidential election, dozens of ex-national security officials signed onto a letter claiming that Hunter's laptop had 'all the classic earmarks of a Russian information operation.'"
The Washington Free Beacon reports that "former CIA deputy director Michael Morell told the House Judiciary Committee in a closed-door interview that he organized a group of 50 former intelligence officials to sign the letter after discussions with Sec. of State Tony Blinken, who served on the Biden campaign. Republicans on the committee revealed details of the interview Thursday, in a letter to Blinken which claims the Biden campaign's actions "had the effect of helping to suppress the Hunter Biden story and preventing American citizens from making a fully informed decision during the 2020 presidential election."

Morell said Blinken contacted him on Oct. 17, 2020, to discuss a New York Post story that revealed emails from the younger Biden's abandoned laptop. The ex-spy also said Blinken sent him an article that said the FBI was investigating whether the laptop was part of a 'disinformation campaign.' Morell said that Blinken's outreach 'triggered' him to draft a letter that dismissed the release of the emails as a probable Russian disinformation operation. He forwarded it to former CIA Director John Brennan and others to sign.

Morell, who was reportedly on Biden's short-list for CIA director, said the Biden team helped strategize the letter's release. He testified the campaign told him they wanted to provide the letter to the Washington Post. The document was ultimately provided to Politico, which published it on Oct. 19 with the headline, 'Hunter Biden story is Russian disinfo, dozens of former intel officials say.'

There is no evidence that Russia was involved in the release of Biden's emails, which shed light on his business dealings with China and his struggles with alcohol and drug addiction. A computer shop owner has said that he provided copies of Biden's laptop to reporters after Biden abandoned it at his store in 2019.
Morell claimed he organized the letter because he wanted Biden to win the election. He was considered a potential CIA director under the current administration. 
Days after a story about Hunter Biden's laptop in 2020, Sec. of State Antony Blinken, then a Biden campaign adviser, reached out to a former CIA official + "set in motion the events that led" to a statement from intelligence officials say House Republicans.pic.twitter.com/wYQ3uAYFQd

— Catherine Herridge (@CBS_Herridge) April 21, 2023
"The letter alleged that the New York Post story "has all the classic earmarks of a Russian information operation."
The letter was used by candidate Joe Biden during the Oct. 22 debate against President Donald Trump to deflect accusations about his involvement in his family's international influence-peddling operation, which had garnered millions of dollars from China and Ukraine while he was vice president.
It was also used to try to discredit The Post's reporting that had embarrassed candidate Biden by contradicting his claims during the campaign that he had never spoken to his son about his overseas business dealings," The New York Post explained.
Former CIA officers were not the only part of the intelligence community to work diligently to spread misinformation about Hunter's laptop. In December, New Conservative Post noted that one of the "Twitter Files" releases showed that the FBI went to bat to help the Biden campaign, as well. 
"Michael Shellenberger has published the latest exposé on Twitter, and this time, it's not Twitter that looks corrupt; it's the FBI, which knowingly lied to social media outlets about the Hunter Biden laptop, writes Andrea Widburg at The American Thinker. "It's impossible to believe that it did so for any other reason than to affect the outcome of the 2020 presidential election by hiding Joe Biden's corruption.
We all know the FBI has become dramatically corrupted over the years, but this one takes the cake now that the man behind the curtain has been revealed.
Let's get the most crucial point out first: The FBI knew at all relevant times that Hunter Biden's hard drive was the real deal and that every bit of information on it—crooked dealings with foreign governments, money laundering for Joe, sexually obsessive videos, drug usage—was entirely legitimate. Nevertheless, the FBI aggressively worked with Twitter and other social media outlets to suppress this fact by falsely claiming that the hard drive was 'Russian disinformation' or a hack." 
Jordan and Turner have asked Blinken to hand over all documents and communications relating to the letter to "identify all people with whom you communicated about the inception, drafting, editing, signing, publishing, or promotion" of the statement and provide "all documents and communications referring or relating to" that effort.
[Read More: A Kennedy Takes On Biden]