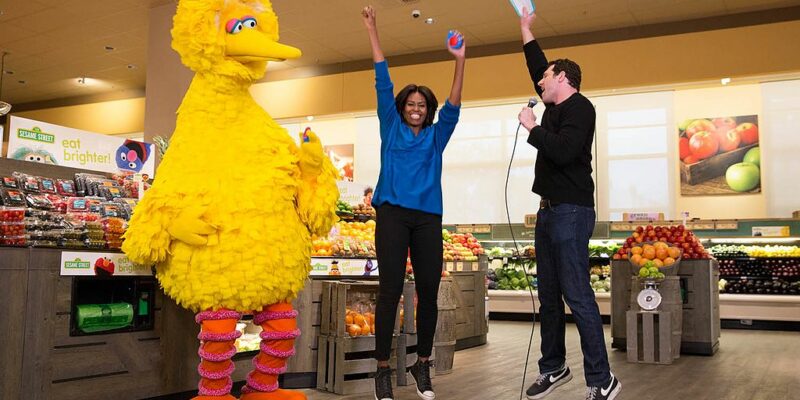 Earlier in the month, in an underreported interview, former First Lady Michelle Obama announced that she and conservatives have something in common. In an interview with Revolt, the "unapologetic, authoritative voice of Hip Hop culture, which includes rap and R&B music, and social justice news," she said that she could not stand her husband, former president Barack Obama, for nearly ten years. 
In an explosive interview, she said, "There were 10 years when I couldn't stand my husband and guess when it happened? When those kids were little… but I would take 10 bad years over 30… it's just how you look at it."
She added, "You have to know yourself before you can know who you want to partner with. People want to be married and want a partner without knowing [themselves first]. Are you ready for a partner? Are you ready for the compromise, and the sacrifice, and the challenge of it? And then if you are, who do you want to do it with?"
Fox News wrote that Michelle always respected her husband through their challenges. "Do you like him?," she said, "I mean, you could be mad at him, but do you still look at him and go, 'I'm not happy with you, but I respect you. I don't agree with you, but you're still a kind, smart person,'" she said of relationship troubles."
During the interview, Michelle also indicated that having small children was not her thing. She described "her two daughters as 'terrorists', when they were little – saying 'they have demands.'
The Obama daughters, Malia and Sasha, were ages 7 and 10 when they moved to the White House. 
She also stated: 'Little kids, they're terrorists. They have demands. They don't talk. They're poor communicators. They cry all the time. 'They're irrational. They're needy. And you love them. And so you can't blame them, right?"
Maybe this explains why during her time in the White House she pushed for the school lunch programs that she did. In 2014, The Washington Post reported, "School kids around the country are tweeting rather unfortunate pictures of the meals they're being served at lunchtime, and thanking first lady and healthy school food advocate Michelle Obama for their bowls of mush and mystery proteins. 
The tweets, which have carried the not-so-subtle #ThanksMichelleObama hashtag, were being sent out at a rate of 40 per minute late last week, but started to gain momentum some 10 days back and are still continuing to be posted as of this morning.
@EAGnews pic.twitter.com/CL2EYNMte6

— Marissa Garrett (@marissajgarrett) November 19, 2014
Yum school lunches #thanksmichelleobama pic.twitter.com/eS27j75Oae

— Jess (@Jess_Sency) November 18, 2014
The country's public school meal program has undergone a good deal of change over the past few years, largely driven by a national push for more nutritious lunch trays. And Michelle Obama, arguably the school nutrition movement's most public proponent, has become a symbol of the healthier meals. She was an instrumental player in the implementation of new health standards in 2012, which mandate minimum fruit, vegetable and whole grain servings, as well as maximum sodium, sugar and fat contents. And she helped inspire more recent changes that took effect this school year banning schools from serving soda and sugary drinks.
But just because children are being served healthy food doesn't mean they're eating it. A study by the Harvard School of Public Health found that some 60 percent of vegetables and 40 percent of fresh fruit are thrown away (for good measure, even more vegetables — some 75 percent — were thrown out before the USDA school meal standards went into effect). A separate study notes a significant increase in waste in many schools ever since the new health standards were implemented….Based on some of these photos from children, it might not be surprising why so much of the country's public school meals are going to waste."
This past February, Politico noted that President Joe Biden had begun "inching back toward Michelle Obama's school nutrition standards" earlier in the year, overturning the Trump rules that gave kids food they would actually eat. 
"The stricter nutrition standards — which cut sodium, require more whole grains and mandate more fruits and vegetables — were also partially relaxed during the Trump administration . One of former Agriculture Secretary Sonny Perdue's first moves was to " Make School Meals Great Again " by loosening rules for whole grains, sodium and flavored milks.
With Obama Agriculture Secretary Tom Vilsack back at the helm of USDA, this year should have been Democrats' big chance to get nutrition rules back on track and go even further — especially at a time when obesity rates among children appear to be worsening. But the pandemic has wrecked supply chains so badly that schools are unable to pivot back to meeting even the old requirements right now."
Michelle Obama gave the interview to Revolt to promote her recent book, "The Light We Carry: Overcoming in Uncertain Times." Shortly after leaving the White House, it was reported that the Obama family will become the first family to become billionaires due to Barack's tenure as the 44th president. 
 [Read More: Powder Keg Starting To Get Lit In Europe]