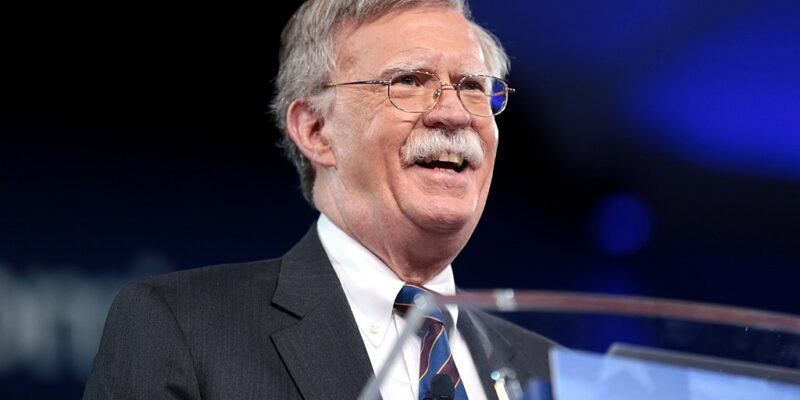 The FBI recently released disturbing details that the Iranian Revolutionary Guard has put a price on the heads of two former American leaders, former UN Ambassador and National Security Advisor John Bolton and former head of the CIA and Secretary of State Mike Pompeo. 
According to an unsealed affidavit, U.S. law enforcement identified Shahram Poursafi as a member of Iran's paramilitary Revolutionary Guard, currently wanted by the FBI for trying to hire hitmen to kill the two members of Trump's White House team. 
Prosecutors said the plot began a year after the United States killed Qassem Soleimani, the head of Iran's paramilitary group who led that nation's proxy wars to kill U.S. soldiers throughout the Middle East. Suleimani had plans to continue attacks on Americans when President Trump authorized the strike that killed him in Bahgdad. 
Upon seeing the news that the Iranian general had been blown to bits, Bolton took to Twitter, saying, "Congratulations to all involved in eliminating Qassem Soleimani. Long in the making, this was a decisive blow against Iran's malign Quds Force activities worldwide. Hope this is the first step to regime change in Tehran." Iran's supreme leader called for vengeance.
Following the strike, The New York Times reported that "General Suleimani was the architect of nearly every significant operation by Iranian intelligence and military forces over the past two decades, and his death was a staggering blow for Iran at a time of sweeping geopolitical conflict."
Bolton was a chief proponent for ending Barack Obama's Iranian Nuclear Deal 
AP offered details on the plot. "An Iranian operative has been charged in a plot to murder former U.S. national security adviser John Bolton in presumed retaliation for a U.S. airstrike that killed the country's most powerful general, offering $300,000 to "eliminate" the Trump administration official, the Justice Department said Wednesday.

Shahram Poursafi, identified by U.S. officials as a member of Iran's paramilitary Revolutionary Guard, is currently wanted by the FBI on charges related to the murder-for-hire plot.

"This was not an idle threat," Assistant Attorney General Matthew Olsen, the Justice Department's top national security official, said in a statement released by the department. "And this is not the first time we've uncovered brazen acts by Iran to exact revenge against individuals in the U.S."
Poursafi allegedly alluded that he had a second target that he was willing to pay more than three Boltons for, according to the Department of Justice. It was reported that he "had insider knowledge about the whereabouts and schedule of that person." 
That person, according to Axios, was former Secretary of State Mike Pompeo, and authorities "confirmed directly to Secretary Pompeo that he is one of the individuals who has been targeted."
Poursafi disclosed to an undercover source that "targeting that official was dangerous because there were a lot of people around him/her, but that his/her time would come."
In April, Pompeo said he was thankful that he has top-notch security. He told WMUR, "I'm thrilled that the government has done the right thing and provided continuous security for me — I thank them for that and I appreciate that."
Bolton expressed shock at the news, but not in the way you'd expect. On CNN, he said, "Well, I was embarrassed at the low price. I thought it would have been higher. Maybe it was an exchange rate problem or something." 
Insider noted that "he went on to say that he had "long had a general understanding of what the threat was," but was not aware of the specifics of the plot."
After joking about his dismay at the low cost of his life, the former NSA advisor took a more serious tone, releasing the following statement: 
"I wish to thank the Justice Department for initiating the criminal proceeding unsealed today; the FBI for its diligence in discovering and tracking the Iranian regime's criminal threat to American citizens; and the Secret Service for once again providing against Tehran's efforts. 
While much cannot be said publically right now, one point is indisputable: Iran's rulers are liars, terrorists, and enemies of the United States. Their radical, anti-American objectives are unchanged; their commitments are worthless; and their global threat is growing. 
Iran's nuclear-weapons and terrorist activities are two sides of the same coin. No responsible U.S. government should think otherwise. America re-entering the failed 2015 Iran nuclear deal would be an unparalleled self-inflicted wound, to ourselves and our closest Middle East allies. I remain committed to making sure that does not happen."
Assistant Attorney General Matthew Olsen announced in a press briefing that "Iran and other hostile governments should understand that the U.S. Attorney's Office and our law enforcement partners will do everything in our power to thwart their violent plots and bring those responsible to justice."
Politico reported that the announcement from the DOJ was throwing a wrench into Joe Biden's plan to return to the Iran Nuclear deal. The magazine wrote, "News this week that the Justice Department has charged an Iranian operative in a suspected scheme to kill former Trump administration national security adviser John Bolton is leading to renewed calls in Washington for Biden to abandon the nuclear talks. The Bolton case comes after U.S. officials recently arrested a man amid suspicion that he was part of an Iranian effort to kidnap Masih Alinejad, an Iranian-American critic of the Tehran regime.
The revelations have bolstered detractors of the nuclear deal, a bipartisan faction that says the Iranian government simply cannot be trusted and that any bargain with Tehran must cover its misdeeds beyond just its nuclear ambitions. The news also underscores the tricky nature of the U.S.-Iran relationship, which is adversarial and deadly — even when the two countries are negotiating sensitive issues.
"The [Biden] admin should walk away from nuke talks & prioritize Americans,"  wrote Texas Rep. Mike McCaul, the ranking member of the House Foreign Affairs Committee.
"Alinejad echoed that sentiment," Politico continued, "adding that the United States should further crack down on Iran by kicking out its diplomats in America, such as those serving at Iran's mission to the United Nations. Some critics of the regime also say the United States should deny a visa to Iran's president, Ebrahim Raisi, should he want to attend the U.N. General Assembly gathering in New York next month."
Tablet Magazine recently showed the absurdity of the Biden attempt to revive the Obama nuclear deal: "Ignoring large sections of observable reality, President Joe Biden continues to rely on Russia as a good faith mediator to negotiate a return to the failed Iran nuclear deal of 2015—better known as the Joint Comprehensive Plan of Action (JCPOA). This reliance requires the White House to dismiss the obvious fact that Russia's mediation is really advocacy on Iran's behalf, which in turn helps to fuel Russia's war machine in Ukraine and make a mockery of U.S. sanctions against Putin."
Yes, you read that right. The Biden Administration has sent billions of dollars to Ukraine to fight Russia while also hoping that Russia works as a fair referee in negotiating a deal with Iran involving whether or not that nation should have access to potential nuclear weapons. 
[Read More: Tucker Really Worried About Alex Jones's Phone]