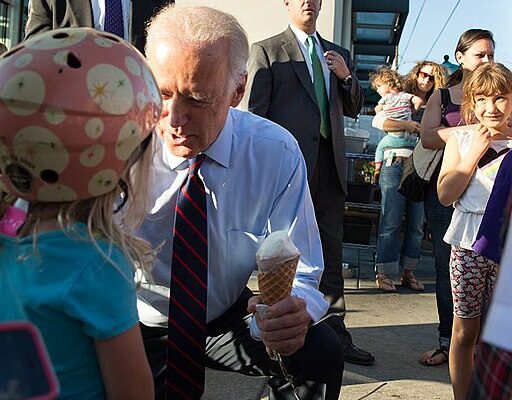 President Joe Biden made a startling announcement that we should expect food shortages in the United States while recently visiting Brussels to discuss the current conflict in Ukraine. 
"It's going to be real," Biden said at his press conference while meeting with G-7 leaders. "The price of the sanctions is not just imposed upon Russia. It's imposed upon an awful lot of countries as well, including European countries and our country as well."
Ukraine and Russia are both major producers of wheat and Ukrainian farmers have already missed planting season as they defend their country against Russian bombing and invasion. Earlier in the month, wheat hit a 14 year high in price. 
The Hill reported, "The president announced his intention to redouble combined efforts with the European Union to increase global food security and provide direct food aid, where warranted, to prevent a crisis in a joint statement with European Union President Ursula von der Leyen on Thursday. 
The president said NATO leaders talked about urging all the European countries and everyone else 'to end trade restrictions on limitations on sending food abroad.'
The U.S. and its allies, Biden said, are in the "process of working out" how to alleviate food shortage concerns amid rising inflation and lingering supply chain issues."
Biden's domestic policies of limiting American oil production, called by the Wall Street Journal the president's "U.S. Oil Embargo," combined with runaway spending over the past few years, has caused drastic inflation not seen in decades. The increase in groceries at home has impacted working families enough that NBC News has launched a monitoring service tracking rising food prices across the country. 
Former Treasury Secretary under Barack Obama Steven Rattner recently criticized the White House for their constant refrain of blaming COVID and supply chains for increased inflation. "The Biden administration needs to shift its approach. In particular, with the economy steaming along, it should make deficit reduction as important as its other initiatives," Rattner wrote, "But here again, Mr. Biden has been disingenuous. His Build Back Better plan claims to be deficit neutral, but that assertion is made credible only by using the fuzziest math." 
Biden is in danger of becoming one of the most disliked presidents in modern history. The White hoped that nominating Ketanji Brown Jackson to the Supreme Court, the first African American woman to receive the nomination, would help boost his approval ratings. However, much of the focus on her hearings have revolved around her refusal to define the word "woman," an issue that has caused concern from those who believe the Supreme Court holds a duty to protect women's rights. 
A strong majority of 54 percent disapprove of his presidency as his party faces a strong backlash in the upcoming midterm elections. 
[Read More: Rising Cost of Wheat May Cause Unrest]