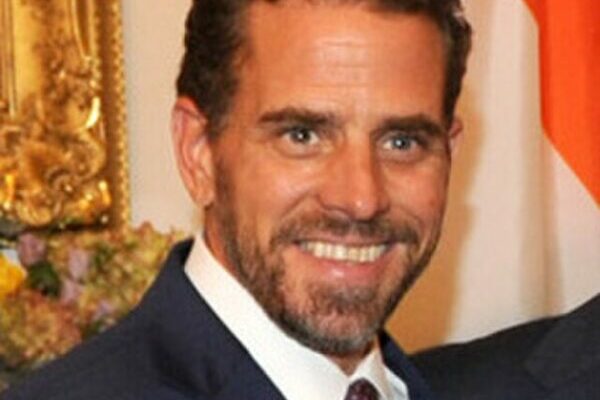 At least one person in the Department of Justice has decided to stop being a laughingstock. Hunter Biden, the "breadwinner" of the Biden Family, has been indicted on felony gun charges. The son of the president was charged in Delaware federal court on three counts tied to the possession of a gun while using narcotics.
Two counts are connected to Biden "allegedly filing a form claiming that he was not using illegal drugs at the time he purchased a Colt Cobra revolver in October 2018. The third count alleges that he possessed a firearm while using a narcotic," explained NBC News.
Pictures of Hunter Biden holding an illegal firearm were found on the "laptop from Hell" by The New York Post. 
The indictment reads that Biden violated Chapter 44, Title 18 of the United States Code by falsely asserting that he was not a drug user on ATF Form 4473. That form required that the buyer myst state that he is aware that "making any false oral or written statement… is a crime punishable as a felony under Federal law, and may vioalte State and /or local law," reports PM.

Biden was indicted on three counts. The first is that Biden "knowingly made a false and fictitious written statement, intended and likely to deceive that dealer with respect to a fact material to the lawfulness of the sale of the firearm…"

That count further provides that Biden gave a "written statement on Form 4473 certifying that he was not an unlawful user of, and addicted to, any stimulant, narcotic drug, and any other controlled substance, when in fact, as he knew, that statement was false and fictitious."

The second count states that he made this false statement knowingly "to be kept" in the records of the company from which he made the purchase. The third count is that Biden then possessed the weapon unlawfully.

The indictment, delivered by a grand jury, was signed off on by special counsel David Weiss, who is also the US Attorney for the State of Delaware.
The new charges come merely two days after Speaker of the House Kevin McCarthy announced an impeachment inquiry into President Biden's involvement in his family's overseas business dealings, which centered on Hunter and the president's brother, James Biden. They are seeking financial information from the president. 
Hunter Biden had tried to get a sweetheart deal from his father's Department of Justice before that was blown up by a federal judge. 
During the summer, the House Oversight Committee laid out how the president's family, but especially Hunter Biden, has gotten special treatment from federal investigations. 
The testimony offered by two career IRS whistleblowers shows the DOJ, FBI, and IRS's investigation of Hunter Biden confirms the Oversight Committee's findings about the Biden family.
According to financial records obtained by the Oversight Committee, the Biden family set up over 20 shell companies, most of which were created when Joe Biden was vice president. IRS whistleblowers have confirmed the existence of these companies.

Bank records 

obtained

 so far by the Oversight Committee show the Biden family, their business associates, and their companies received over $10 million from foreign nationals' and their related companies. The Bidens engaged in many intentionally complicated financial transactions through their associates to hide these payments and avoid scrutiny.

Both the Oversight Committee and whistleblowers have confirmed Hunter received millions of dollars from China, Ukraine, and Romania. IRS whistleblowers also presented evidence of Joe Biden's knowledge and possible involvement in his family's business schemes.
IRS whistleblowers provided evidence of the Justice Department's politicization and misconduct in the Biden criminal investigation.
Joe Ziegler, a 13-year Special Agent with the IRS, testified how the Bidens were given preferential treatment during the Justice Department's investigation:
"In the Criminal Tax Manual, Chapter 10, found on the Department of Justice website, Tax Division policy states, 'Cases involving individuals who fail to fil tax returns or pat a tax but who also commit acts of evasion or obstruction should be charged as felonies to avoid inequitable treatment.' In early August of 2022, federal prosecutors from the Department of Justice Tax Division drafted a 99-page memorandum. This memorandum recommended approving felony and misdemeanor charges for the 2017m 2018, and 2019 tax years. 

If the Delaware U.S. Attorney David Weiss followed DOJ policy as he stated in his most recent letter, Hunter Biden should have been charged with a tax felony, and not only the tax misdemeanor charge. We need to treat each taxpayer equally under the law.

"
"The assigned prosecutors did not follow the ordinary process, slow walked the investigation and put in place unnecessary approvals and roadblocks from effectively and efficiently investigating the case." Ziegler noted that Assistant U.S. Attorney Lesley Wolf and DOJ-Tax Attorney Mark Daly tipped off Hunter Biden's attorneys about his storage unit, which potentially allowed evidence to be 

"destroyed, manipulated or concealed."

 He was also prevented from interviewing and getting records from Hunter Biden's adult children and members of the Biden Family, calling this 

"abnormal and a deviation from normal procedure."
IRS Supervisory Special Agent Gary Shapley testified, "I am here to tell you that the Delaware USAO and Department of Justice handling of the Hunter Biden tax investigation was very different from any other case in my 14 years at the IRS. In this country, we believe in the rule of law, and that applies to everyone. 

There should not be a two-track justice system depending on who you are and who you're connected to. Yet in this case, there was. At every stage decisions were made that benefited the subject of the investigation.

" He noted how evidence, including the laptop, was concealed from investigators. The Delaware U.S. Attorney's office also slow-walked interviews, serving document requests, and pursuing physical search warrants.
IRS whistleblowers confirm they were not allowed to follow evidence that could have led to Joe Biden.
Supervisory Special Agent Shapley testified, "After an electronic search warrant on Hunter Biden's Apple iCloud led us to WhatsApp messages with several CEFC China Energy executives where he claimed to be sitting and discussing business with his father Joe Biden, we sought permission to follow up on the information in the messages. Prosecutors would not allow it. Around this time, a search warrant for the guest house at the Bidens' Delaware residence was being planned. Yet, despite agreeing that there was probable cause, AUSA Wolf cited the 'optics' of executing a search warrant at President Biden's resident as the deciding factor for not allowing it to be completed … 

AUSA Wolf also told investigators they should not ask about President Biden during witness interviews even when the business communications of his son clearly referenced him.

"
Special Agent Ziegler stated, "I would like to point out that one of the [WhatsApp] messages shown on Exhibit 11 on 8/3/2017 shown toward the end of the conversation, Director Zhang says that he wants to convey 'his best regards to you, Jim, and VP.' 

This may be direct contradiction to what President Biden was saying about not being involved in Hunter's overseas business dealings.

"

When asked about the FBI's FD-1023 form alleging Joe Biden was involved in a bribery scheme with a Burisma executive, both Shapley and Ziegler confirmed they never had seen or heard of it during the investigation. Ziegler went on to say that they had potentially corroborating evidence.
Having their "no evidence" bubble burst has made some liberals seethe with rage.
Good job, Merrick Garland. Your weakness has orchestrated the indictment of a private citizen trying to overcome drug addiction so Republicans can try to hit a bank shot off of him to his loving father, all because you were afraid of looking "political" to Fox News viewers.

— Elie Mystal (@ElieNYC) September 14, 2023
One leftwing activist, David Brock, responded to Hunter's charges by threatening the children of members of Congress.
Democratic operative David Brock announces plans to investigate the families of Republican lawmakers in response to GOP investigations into President Biden and Hunter Biden's overseas business dealings. House Republicans, including Rep. Darrell Issa and… https://t.co/Bm6ZrEIrYf

— AM1_NEWS (@am1_news) September 14, 2023
Brock, a former Hillary Clinton booster, told Puck News, "Gloves are off, families are on … We've been looking into how the children of those same members may have benefited from their parents' position. We're not shy about going after the members … This work has been ongoing, and we will soon have more to share publicly"