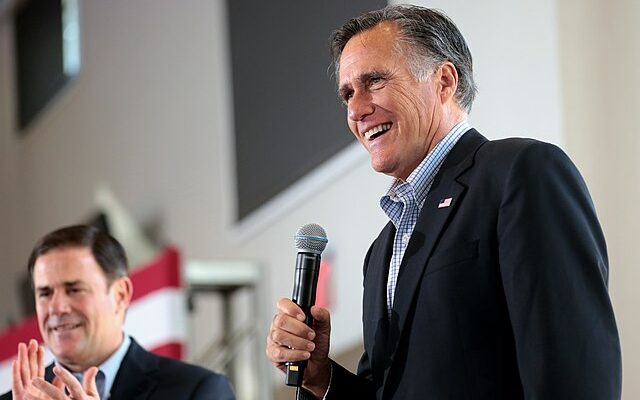 Mitt Romney will not breeze to re-election, should he decide to seek another term in the Senate. Utah state House Speaker Brad Wilson recently launched an exploratory committee to decide if he can take out the moderate senator and former Republican presidential nominee. 
"Utah needs a "conservative fighter" who represents its values, not a "professional career politician," Speaker Wilson said during an interview with The Associated Press.
"I don't have any illusions that, as speaker of the house, I'm a household name. But that's really not what this is about. What this is about is me going out and understanding what people care about," he continued.
The AP noted that the "move is just shy of making his campaign official and allows Wilson to raise money and campaign statewide."
Wilson also spoke with the Deseret News and said that his decision to take on Romney would "be based on what I hear from people, what I believe is in the best interest of the state of Utah, and what is, quite frankly, in the best interest of my family."
He said he is running because he thinks he can make positive changes in the nation's capital, and because he's frustrated with "out of control spending that's hurting Utah families."

"I was born here, I was raised here … and I raised my family here … and as an elected official, and as Speaker of the House, I've really loved the opportunity that we've had to keep government small and out of people's lives, it's part of why Utah is so special," he said. "I really believe that what Washington needs is to be a lot more like Utah. We've got this amazing opportunity to send Utah values back to D.C., and to have a conservative fighter back there, doing things back there the way we do them here in the Beehive State."

Wilson would not say whether or not he's spoken to Romney about his run, and whether he will base his decision on whether Romney runs again. Instead, he said, he was focused on talking to voters.
Mitt Romney has yet to announce that he's looking for six more years in Washington. In February, he said that he'd make the decision "over the coming months." 
During an impromptu press conference outside of the Senate, he said, "The question for me is, what can I get done? I have a list of things I'm working on. I'll make that assessment over the coming months, and sometime in the spring or summer, I'll make that decision," Romney said, according to the Salt Lake Tribune. "I'm confident that I would win if I decide to run. I'll have the resources, and I believe the people of Utah would be with me."
Polling has shown that the former Massachusetts governor might be in a bit of trouble out in Utah. "According to a poll released by the Deseret News/Hinckley Institute of Politics, 52% of Utah voters approve of his performance, while 44% say otherwise.
Among general election voters who describe themselves as conservative, 55% say they approve of his performance."
The Washington Times noted that "Utah Republicans are less likely to approve of the job Mr. Romney is doing than Democrats, making him at risk of a primary challenge from his right flank.
Only 47% of Republicans say they approve or strongly approve of his performance, compared to 73% of Democrats. Just 23% of voters who describe themselves as very conservative approve of Romney's performance, compared to 60% of very liberal Utah voters.
Mr. Romney also holds the majority of moderate voters at 69% and somewhat liberal voters at 65%."
Romney recently made news when he, according to The Washington Examiner, "expressed his distaste when asked Monday evening to respond to reports that Supreme Court Justice Clarence Thomas did not disclose decades of trips and gifts from a GOP megadonor.
Thomas has faced scrutiny in recent weeks over a series of reports that revealed his fraternal relationship with Harlan Crow, a Republican donor who paid for trips and purchased property from the associate justice. He defended his actions earlier this month by claiming that he 'was advised' that he did not have to disclose the trips."
'If the reports are accurate, it stinks,' Romney told reporters from the Capitol on Monday evening.
The Utah senator declined to elaborate when pressed about if he would back Democratic legislation implementing an ethics code for Supreme Court justices, saying, 'I don't have to explain more than that.'"
Romney easily won his election in 2018 with over 62 percent of the vote. 
[Read More: Trump Potentially Partnering With Surprising House Member]