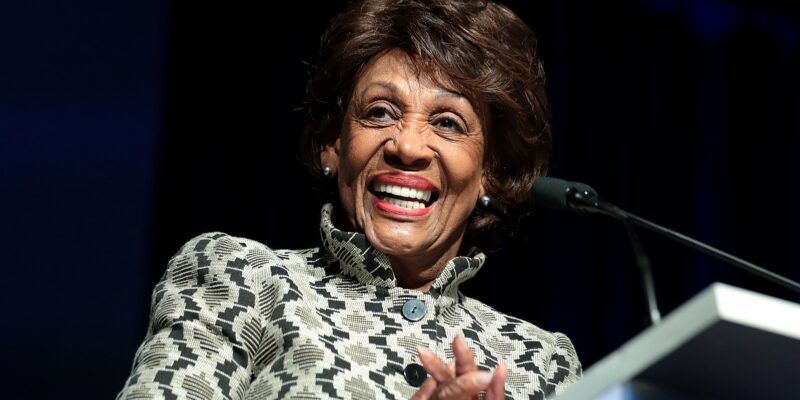 Joe Biden isn't the only Democrat funneling money to his children. California Democrat Maxine Waters been tossing money to her daughter for years, allowing her to run a lucrative "campaign operation" that has given her hundreds of thousands of dollars. In 2022 alone she made nearly $200,000. 
Fox News reports, "Karen Waters pocketed $192,300 from her mother's campaign to keep her "slate mailer" operation afloat between Jan. 2021 and Dec. 2022, a Fox News Digital review of Federal Election Commission filings shows. The setup involves outside campaigns paying Waters' campaign to appear on the slate mailers – or endorsement mailers – sent out to constituents in the Los Angeles area.

The practice is highly unusual on the federal level, and Waters appears to be the only national politician using it to grab committee cash. Slate mailers, however, are commonplace in her home state of California, though critics say it involves deceptive practices over one campaign paying another for a politician's backing in an election.

Waters received the green light to run the operation from the Federal Election Commission in the fall of 2004. Since then, Karen Waters has received more than $1.2 million in payments from her mother's campaign.

The practice has also proved profitable for Waters' campaign. While most of the cash it garners is from individuals running for local public offices in the Golden State, state-wide politicians have also paid large sums to appear in the Waters mailers, including Vice President Kamala Harris."
Waters is a walking, talking stereotype of a career politician. "The 81-year-old Democrat has served as the U.S. representative for California's 43rd Congressional District since 1991 — 30 years. Before that she served in the California State Assembly — for 14 years," The Washington Times noted.
"That's nearly half a century on the public dole, drawing a paycheck as well as an expense and travel account) paid for by taxpayers.
In that time — even with a paltry civil servant salary — Ms. Waters has gotten plenty rich. Her net worth is around $2 million, according to one estimate, and she lives in a house reportedly worth about $4 million.
Ms. Waters has also been named one of Congress' "most corrupt" members — four times. The liberal watchdog group Citizens for Responsibility and Ethics in Washington put Ms. Waters on its list of corrupt members of Congress in its 2005, 2006, 2009 and 2011 reports."
Waters recently made news when Chip Roy, a Republican from Texas, called her out for previously saying the oil industry should be nationalized. The Blaze wrote, "During debate over a congressional resolution to formally condemn 'the horrors of socialism,' Roy confronted Rep. Maxine Waters (D-Calif.) about past statements that she had made threatening to nationalize the oil industry.
The exchange appeared to be quite uncomfortable for the California Democrat, as she tried to deflect by changing the topic to Social Security and Medicare. Roy refused to let up, continually asking whether she will renounce her previous statements in support of socializing segments of the economy."
"I am NOT a socialist!!"

Watch this incredible clip of Chip Roy quoting Maxine Waters' own words right back to her face…

— Townhall.com (@townhallcom) January 31, 2023
The California rep denied that she supports socialism, but in many ways, she's a perfect socialist. Despite not representing a competitive congressional district and does not really need a campaign. In 2022, for example, she received almost 78 percent of the vote. However, Waters sits on the powerful Financial Services Committee, where she can wring out campaign cash from banks and credit card companies to give to her daughter. 
In 2017, Waters became a hero to "Resistance Liberals" who opposed Donald Trump, which merely proved that Democrats only use rules against others and never apply them to themselves. The Daily Beast, a liberal outlet, wrote at the time about her astonishing "rebrand." 
"Rep. Maxine Waters has been reborn at the age of 78, emerging as a folk hero to the anti-Trump resistance for her repeated torching of the president.
From the glowing coverage and partisan praise, you'd barely detect that just a few years ago the veteran California congresswoman was dubbed one of the nation's "most corrupt" elected officials by the Citizens for Responsibility and Ethics in Washington for her role in pushing a bailout for a bank tied to her family.
Waters was eventually cleared by investigators, though her grandson who served as her chief of staff was not. And now, Democrats seem to be embracing—and some liberal ethics advocates willfully ignoring—her sudden emergence as one of the nation's leading critics of ethical lapses in President Donald Trump's administration."
Like Joe Biden, she's another piece of evidence that there are rules and there are Democrats. The rules will always change so long as a liberal can benefit from them. 
[Read More: Smithsonian Attacks Catholics For Being Catholic]