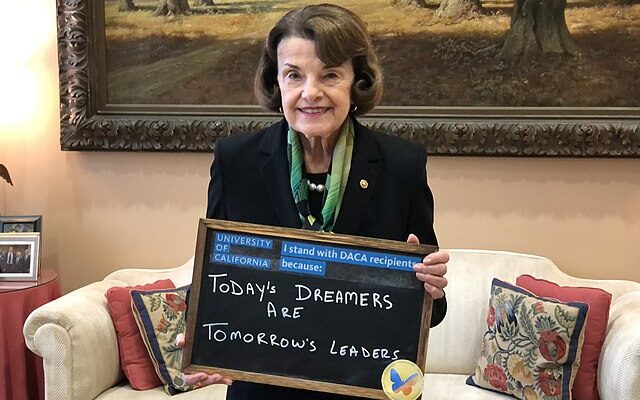 Democrats are going to be down another senator for awhile. Dianne Feinstein, the oldest serving senator, is once again taking a leave of absence for health reasons. 
TMZ reports, "Senator Dianne Feinstein was at the hospital, TMZ has learned, after tripping and falling Tuesday in her home city of San Francisco.
We do not know how serious her injuries are … only that she was taken to a nearby hospital. We're told she returned home Tuesday night.
The 90-year-old Senator has struggled with health issues over the last year. She was absent from the Senate for nearly 3 months earlier this year dealing with shingles, Ramsay Hunt syndrome and encephalitis."
Last week, the Feinstein's office announced that the 90-year-old senator from California had given power of attorney to her daughter, raising questions as to why she's still in the Senate in the first place. 
CBS explained, "Providing power of attorney to another person, typically a trusted family member or associate, isn't uncommon, and is often used as a way to accomplish certain legal or financial transactions, according to legal experts. 
But the report of Feinstein's daughter, Katherine Feinstein, 66, being given power of attorney for her mother comes after a moment of confusion for the democratic senator last month, when she began launching into remarks during a vote on an $823 billion military budget. Colleagues prompted her multiple times to simply vote "aye." 
Among the legal issues now being handled by the senator's only child is a family dispute over the senator's beach house near San Francisco, according to the San Francisco Chronicle. Feinstein wants to sell the home, a step opposed by the children of her late husband Richard C. Blum, the Chronicle reported.
A spokesman for Feinstein declined to comment. 'The senate office doesn't feel it's appropriate to comment on a private legal matter,' he noted." 
In May, Feinstein returned to the Senate after a long, health-related absence. 
A few weeks ago, alarms were raised about Feinstein after she appeared extremely confused during a committee hearing in the Senate. 
The former mayor of San Francisco, Feinstein has long served on the Senate Judiciary Committee and the Senate Intelligence Committee. Her initial absence earlier in the year threw a wrench into Democratic plans to ram judicial confirmations through the Senate, leading to calls for her resignation. 
So far, Feinstein has refused to step down. In May, she said, "The Senate continues to swiftly confirm highly qualified individuals to the federal judiciary, including seven more judicial nominees who were confirmed this week. There has been no slowdown," Feinstein said in a statement.
"I'm confident that when I return to the Senate, we will be able to move the remaining qualified nominees out of committee quickly and to the Senate floor for a vote."
Feinstein's fall comes on the heels of Republican leader Mitch McConnell, 81, appearing to have a medical issue during a speech. 
The Wall Street Journal reported, "At his weekly press conference on Wednesday, McConnell stopped speaking abruptly and briefly left before returning to take questions. He said he was fine and laughed at a question about who might succeed him as leader. Later, he met with House Speaker Kevin McCarthy (R., Calif.), attended a Major League Baseball reception, returned to the Senate floor for votes and chatted with colleagues."
The median age of senators is 65, the highest on record. That's unlikely to change soon as few of these aged politicians refuse to give up power willingly, even when they don't know where they are. 
[Read More: Biden's Handpicked EV Company Goes Bust]