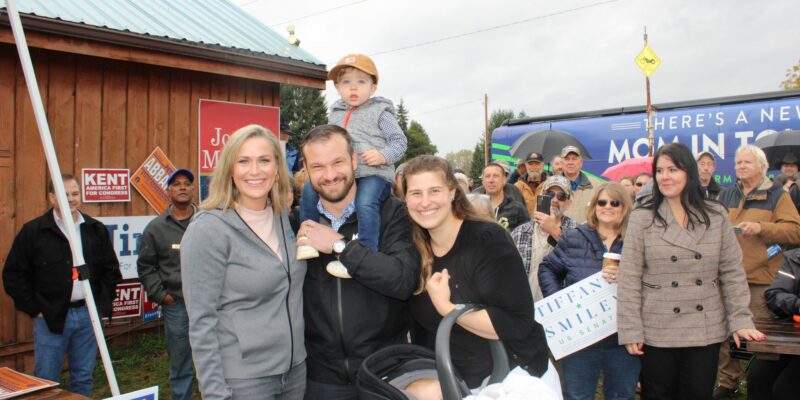 Alarm bells are going off for another powerful Democrat in the Senate. This time in deep blue Washington, where polls are showing a close race between Senator Patti Murray and her challenger Tiffany Smiley. A nurse, Smiley has adopted "There's a new mom in town" as her slogan and has hit the 5-term senator for being a creature of DC. 
Murray losing would send shockwaves through the nation's capital.
Politico reported, "Democrats are adding millions in television spending to boost Sen. Patty Murray, a sign that the party is employing a take-no-chances approach even in solidly blue Washington state.
The 30-year veteran of the Senate is facing a challenge from Republican Tiffany Smiley, a political newcomer whose campaign has seized on quality-of-life issues, from urban crime and homelessness to inflation, to tarnish Murray. In recent public polling, Smiley has closed a sizable gap since this summer, when Murray led by 18 percentage points in an 18-candidate, all-party primary."
The Daily Caller gave an update on the state of the race. The leveling of both candidates in the polls one week before Election Day heralds a potentially dramatic upset for Smiley, a nurse with no prior political experience, against Murray, who has represented Washington state in the Senate since 1993 and is running for a sixth term. In 2016 Murray won by double-digits in the state, which has a Cook Partisan Voting Index score of D+8, in favor of Democrats.

Smiley's campaign has focused much of its messaging on Murray's long incumbency and record in the Senate, blaming her for high inflation and alleged foreign policy missteps under the Biden administration. Murray has voted with President Joe Biden's stated positions on issues before the Senate 96% of the time, according to FiveThirtyEight.

Smiley has also adopted positions taken by Republicans nationwide this midterm election, including expanding school choice programs as well as promoting "curriculum transparency" in relation to content regarding race, gender and sexuality. She has also proposed to make cities that defund their police departments legally liable for increased crime.

Crime, in particular, has been a high-profile issue in Seattle, the state's largest city, where drug use and homelessness have increased, and where left-wing activists occupied a section of the city's downtown corridor (termed the "Capitol Hill Autonomous Zone") for several weeks in 2020. Seattle cut its policing budget by 17% in 2020, resulting in the departures of 400 officers while crime has reached a 30-year high, per the Seattle Times.
A recent poll by the Trafalgar Group, a conservative-leaning polling service, showed the race within the margin of error, with Murray leading by only one point.
"It doesn't surprise me that this race has tightened," Alex Glass, a Democratic strategist based in the state, told Politico. He contended that voters still weren't paying close attention to the race over the summer when Murray had a huge lead.
"But in a liberal stronghold like Washington — a state President Joe Biden won by nearly 20 percentage points — Glass and other Democratic operatives say they think voters' feelings about abortion rights and wanting action on climate change will ultimately outweigh dissatisfaction with the economy. Democrats just can't slack off in the meantime, they say."
With Joe Biden being one of the least popular presidents in modern history, our doddering and mumbling president has largely stayed away from the campaign scene. As the Midterm Elections approach, panicked Democrats have gone back to the person they wish was in the Oval Office instead, calling on Barack Obama to save them from the consequences of their disastrous policies. 
It's hard to believe that another lecture from a billionaire may convince people to vote for the Democrats, but I suppose you never know.
Regardless, he's the best the Democrats have. Politico noted, "Nobody is more in demand than Obama. His team was inundated with requests to speak, with Democrats imploring him to cut brief get-out-the-vote videos and congressional leaders leaning on him to headline fundraisers with them. It harked back to times when, as president, Obama would issue endorsement lists that delved so far down the ballot that some of the announcements more closely resembled a phone book than a standard news release.
Obama hit a trio of battleground states over two days to rally the base for Senate and gubernatorial hopefuls in tough races. On Tuesday, he'll be in Nevada to do the same, before heading to Phoenix on Wednesday and then Pennsylvania alongside Biden on the final weekend before Election Day.
Obama's closing act is something of a role reversal for the former and current president compared with past years. It was often Biden and his everyman appeal that was most appreciated in some of the nation's tightest races, particularly those for the House. While Biden aides insist he's largely succumbed to the reality that his services are a better fit at the moment in blue states — places such as Oregon, California and Maryland, where he's set to appear for the second time — he's publicly bristled at the suggestion that campaigns want him to stay far away from them.
Even as he stars as the party's biggest draw and chief base motivator, there's an unmistakable fear that even he can't prevent what may end up being inevitable bloodletting on Nov. 8. Some Democrats also contend that for all his considerable talents to drive an argument, even Obama has struggled in the past to translate his own popularity and successes onto others in his party. Democrats suffered heavy losses in both midterms of Obama's presidency"
The current projection of the Senate by RealClearPolitics.com shows Republicans picking up three Senate seats next week on Election Day.
 [Read More: COVID Bombshell Report In Senate Shows What's At Stake In Midterms]